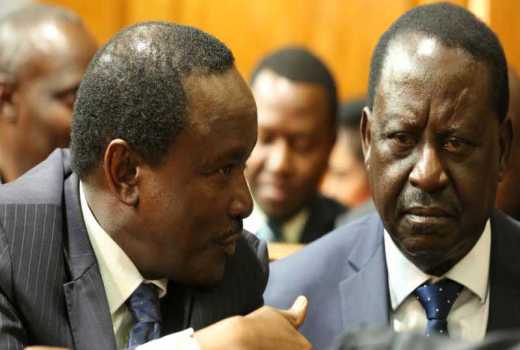 Among many communities in Kenya, there seems to be an unwritten rule on how to inform close relatives about the death of a kin. In a village in Rift Valley where I grew up, there is a tendency to have elders present when a family member has died to ask relatives who are far to come home and address an urgent matter.
Where the said relative has been in hospital for some time, the relations are told to hurry to the hospital because the patient's condition is deteriorating and the said relations are needed to help make a decision for transfer or authorise a procedure or another. Generally, people don't like telling or being told that a relative is dead and would rather a delayed process.
There are many reasons to justify the deferred information strategy in matters of death, including the fact that some people have weaknesses in handling sad news and can as well die of shock if not informed in the right way. But there is also the false hope that if we do not talk about it, the dead may not be dead.
This, it seems, is the notion in the minds of many political parties, affiliations and coalitions and their membership as well as support base. Many hold onto the hope that their groupings are not dead for as long as they do not announce their deaths.
The dilema
That, ladies and gentlemen, is the situation the National Super Alliance (NASA) is in now. For avoidance of doubt NASA, as we knew it before August 8 2017, is dead. The principals are struggling to find the courage to make the announcement and start the burial process.
Raila Odinga, the de facto big brother, is stranded with the body at Capitol Hill and does not know how to convey the news to Dr David Ndii, the family spokesman for official announcement to the millions of supporters.
In the meantime, the body is decomposing and the stench cannot be confined any more.
Picture this. There is an unofficial embargo in the Amani National Congress (ANC) against any meeting by members to discuss the role of the party and the way forward in NASA. The party's "Secretaries-General" Godfrey Otsotsi and Barrack Muluka have been on cross-purpose on how ANC leader Musalia Mudavadi stand in relation to the January 30 swearing-in of Raila Odinga as the "people's president" and now the former vice president has issued a moratorium on further discussion on the matter.
It is also not clear who among the two is the real SG since the party's constitution does not provide for two holders of the same office. Mudavadi, the originator of the NASA outfit, has been unusually quiet since January 30. He is mourning.
In Moses Wetang'ula's Ford Kenya there is a tranquility that would be an envy of many in normal circumstances. But these aren't normal circumstances, especially with a coalition in which the Senate Minority Leader is a major shareholder having a "people's president" without a deputy and a Cabinet and whose national convention is looming. Wetang'ula has elected to hear nothing, say nothing and do nothing about NASA. He is grieving.
Living in denial
Then there is the hitherto second in command. Wiper Democratic Movement has resumed its flip-flop character it exemplified in the period before the official unveiling of NASA on January 11 last year.
Wiper leader Kalonzo Musyoka has declared Odinga's swearing-in an illegality and avowed that being a law abiding Kenyan who intends to be the country's real president someday, he does not wish to end up in jail and frustrate his ambition.
In other words, Kalonzo has deserted Raila and shown that he prefers being the President of the Republic of Kenya in future to being the "deputy people's president" now. His party has since written to Speaker of National Assembly Justin Muturi demanding a position on the Parliamentary Service Commission as Wiper and not NASA.
Wiper deputy party leader Farah Maalim was quoted in a section of the dailies on Thursday saying: "NASA is collapsing and a search for totally new formations has just begun" No, Mr Maalim! NASA has collapsed. Kalonzo has accepted NASA's death and is moving on.
Machinations
Orange Democratic Movement, the partner party with the biggest representation in Parliament and the Governors' Council, has been vocal in silencing voices complaining of inadequate slots in both the Senate and National Assembly committees, citing numerical superiority.
After the swearing-in, ODM MPs came out in the open to tell off their partners in NASA for their leaders' no-show at Uhuru Park and complaining of lack of commitment by Ford Kenya, ANC and Wiper to the course. Raila has been silent on this. He agrees.
I think it is time one of or all the four "former principals" in NASA came out to announce its death and burial arrangements and mobilise prayers for its possible resurrection.
Otherwise the over six million followers will continue living in false hope and denial and this drags the whole country behind.
Mr Cherambos is a social commentator based in Nairobi.[email protected]