FAO distributes relief food in drought hit areas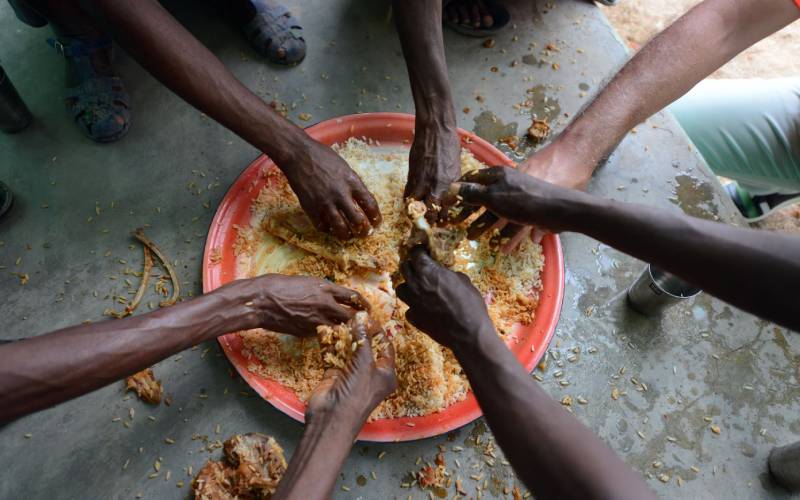 The distribution of relief food to thousands of residents affected by the prevailing drought has begun.
Carla Mucavi, the Food and Agricultural Organisation (FAO) representative in Kenya, said they had distributed supplementary animal feeds to pastoral and agro-pastoral communities.
Speaking during the celebrations to mark World Food Day at Voi Showgrounds in Taita-Taveta on Sunday, the official said they had distributed 32,000 bags of range cubes in Garissa, Isiolo, Mandera, Tana River and Wajir counties.
Ms Mucavi, accompanied by Agriculture PS Hamadi Boga, said the intervention targeted 9,000 households.
"An additional 24,000 bags will be distributed this month to 6,000 households in Kitui, Makueni, Baringo, Samburu, Isiolo and Marsabit counties," she said.
Following severe drought due to failure of the short rains since March 2020, about 2.1 million people in 23 Arid and Semi-Arid Lands (SALs) counties face acute food insecurity, with FAO and the State warning that the situation could worsen with the expected failure of the October-December rains.
In Taita-Taveta, where over 17,000 people are facing starvation, Mucavi distributed 3,000 range cubes pellet, livestock drugs and vaccines and vegetables. "This will be complemented with an unconditional cash transfer."
Prof Boga said farmers in Kenya were not embracing use of technology. "There is a need for the farmers to use technology and diversify their farming activities to achieve 100 per cent food security and nutrition," he said.
He said the government had put in place programmes to help farmers stay on course, but the escalating prices of farm products and fertilisers remained a concern.
"We are working to stabilise the prices to make them accessible to the small scale farmers," he said.
Boga said the Food and Safety Bill and the Agriculture Livestock Policies would help improve the agricultural sector. He said, under the new policies, youths will be incubated and funded to engage in agri-business.
Ms Lauren Landies, World Food Programme director, called on the government to support women in the food value chain programmes to improve food security. "When you support a woman, you are feeding the whole nation," she said.
International Fund for Agriculture Development country director Francesco Rispoli said there should be concerted effort to improve agriculture.
"We have strived to ensure farmers have access to farm inputs, technical services and markets for their produce," he said.
Taita Taveta Agriculture Executive Davis Mwangoma said 20 per cent of the population required relief food. He said the county was working with the national government and other partners to achieve 100 per cent food security.