Mombasa matatu operators crying foul as extortion gangs take over stages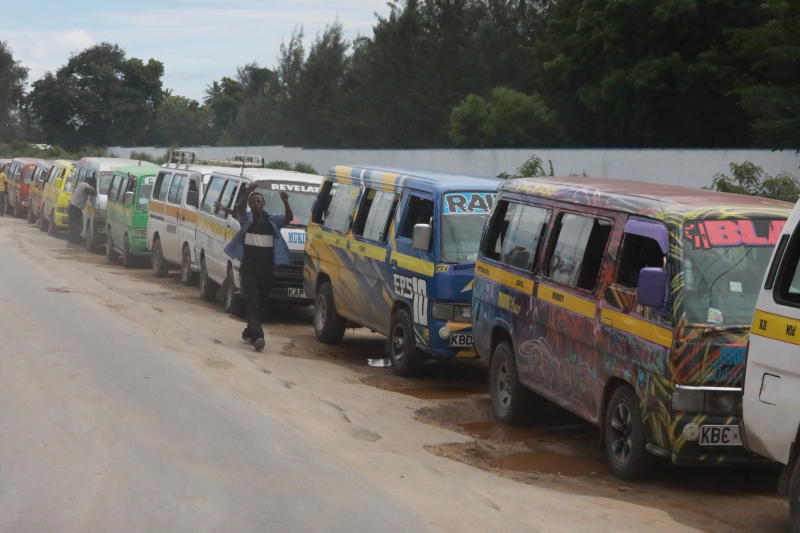 Gangs have taken over most matatu termini in Mombasa, charging Public Service Vehicles (PSVs) per trip.
Stages like Bamburi Mwisho, Mlaleo, Barseha, Buxton, Likoni Ferry, Changamwe and Mishomoroni are ruled by the gangs.
Some politicians have been accused of giving them protection in a bid to get support as the General Election nears.
The chaotic scenes that characterised the industry before the 2004 Michuki rules are slowly creeping back.
And although some pretend to be touts, some matatu owners have defended them, saying some are conductors and drivers yet to be employed.
"Touting is indeed against the law, but those are our youths that also need something to eat. But even if they are arrested, they are bailed out by politicians because they use them during elections," said the Matatu Owners Association national vice-chairman Ali Salim Batesi.
Matatu owners are now lamenting that they cannot reap from their investments as expected due to the money paid to the gangs.
For instance, a matatu plying the Bamburi Mwisho - Likoni route pays Sh130 per trip; Sh50 at Bamburi, Sh30 at Lights stage and Sh50 at Likoni stage.
"In a day, we pay touts or these gangs at least Sh780. They are dangerous. They can turn violent if we do not pay them," said Hussein Abdi, a matatu diver.
He said each driver and conductor, who work in three shifts, goes home with only about Sh250 and Sh150 respectively.
Mr David Makili, a matatu owner, said the industry is making money for those who did not invest. "The money the crew, gangs and police make from the matatus is more than what the owner gets at the end of the day," said Makali.
John Amok, a resident of Kisauni, recounts how they were left in a matatu as the driver and conductor fought with the squad, who claimed they had not been paid their dues.
"We were held at a petrol station for close to 20 minutes as the crew argued with the squad over the payment. It took the intervention of the men in the vehicle and other touts to force the driver to take passengers to their destination," said Amok.
Coast Region Traffic Coordinator Peter Maina admitted the police have recorded several complaints.
He also blamed some matatu owners who encourage touting. "We held a meeting with the matatu operators and agreed that touting is prohibited. We shall be arresting anyone found shouting or pulling passengers," said Maina.
He also said several cases of missing passenger phones.