What Coast residents and leaders want BBI to handle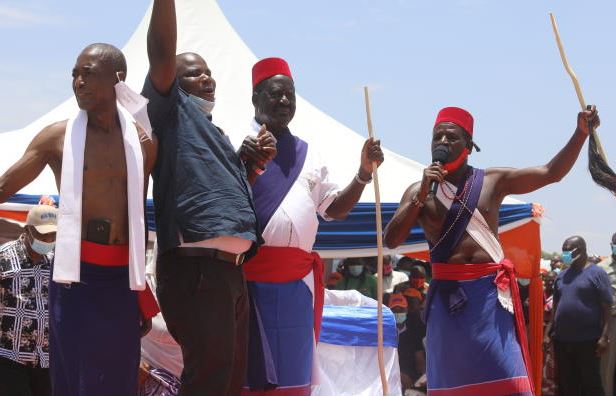 Coast leaders have cited historical land injustices, claims of marginalisation and unemployment as the main issues proponents of the Building Bridges Initiative (BBI) should address.
Local leaders and residents told ODM leader Raila Odinga during his tour of the Coast that BBI Bill had not clearly spelt out solutions to the squatter problem, years of economic marginalisation and youth unemployment.
The same issues popped up at all Raila's rallies in Kilifi, Mombasa, Kwale and Taita Taveta counties where the issue of mineral royalties and revenue from the expansive Tsavo National Park were raised.
The leaders and residents asked Raila to ensure the issues were addressed as "they had undermined development in the region since independence".
In Kwale, Raila braved a chorus of demands to resolve the massive grabbing of local ranches and evictions of residents in Kinana in Lunga Lunga sub-county.
Kwale Senator Issa Boy, Kwale Woman Representative Zuleikha Hassan, Kilifi South MP Ken Chonga and former Msambweni MP Marere Wamwachai said land had remained a sticking issue at the Coast even as Raila pushed for passage of BBI Bill.
"It is sad that even as we push for the passage of the BBI Bill, hundreds of our people in Kinana are being evicted from their farms and homes without compensation. Ranches in Kinango have also been grabbed and we want this to be stopped," Ms Wamwachai, a former assistant minister for Culture and Social Services, said.
Chonga said the Coast was teeming with squatters yet nearly 80 per cent of public land was located in the region.
He said many land parcels had been grabbed by influential individuals and challenged Raila to ensure the trend was reversed.
"We demand that the Truth, Justice and Reconciliation Commission and the Ndung'u Land Commission reports are implemented to resolve the land problem," he said.
Mr Boy said Kwale was facing high youth unemployment and yet police were harassing boda boda operators as they tried to earn a living.
"We urge you to intervene and stop the police from interfering with the boda boda operations which is a source of income for our youth," Boy said.
Raila assured Coast residents that the TJRC and Ndung'u commission reports would be implemented within six months after passage of the BBI at the referendum.
He said the BBI will ensure the land problems at the Coast are addressed once and for all, adding that the Coast economy would be transformed through development of the blue economy just like in Namibia.
"I urge you to support BBI at the referendum because it will ensure the TJRC report, which recommends land reforms, is implemented within six months....," he said.