19 aspirants seek to oust dock workers union boss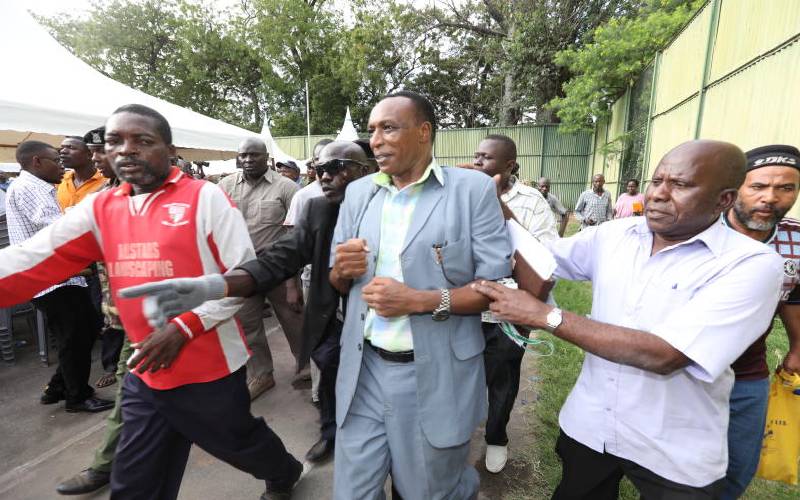 An election fever has gripped the port of Mombasa as 19 aspirants seek to unseat Dock Workers Union (DWU) General Secretary Simon Sang.
Although the union elections are slated for the second week of April, campaigns have started early following persistent wrangles among top officials.
Apart from internal wrangles running back to the last union polls in 2016 when he faced only three rivals, Sang is at war with several private firms at the port, including one associated with the family of Mombasa Governor Hassan Joho, over alleged secret plan to privatise the port.
DWU is one of the largest unions in the country with 4,400 members who are mainly employees of the Kenya Ports Authority (KPA).
For nearly 15 years at the helm of the giant union, Sang has maintained his fighting spirit with the union top brass, KPA management and government and has been branded a lone ranger.
Sang is so far the longest-serving DWU general secretary and one of the most vocal. Former Matuga MP, the late Juma Boy, is the second longest-serving general secretary after doing 13 years before he died in 1988.
Sang confirmed the list of possible challengers yesterday and said he was prepared for the contest.
His latest battle is to stop an alleged plan by the government to privatise the second container terminal (CT2), claiming 3,500 'decent jobs' at KPA are at stake.
Stop privatisation
But Sang is not enjoying the backing of union chairman Mohamed Sheria, vice-chairman Gunda Kaneno, deputy general secretary Anthony Odero, treasurer Joseph Makero and gender chairperson Zuhura Idd.
He has been at loggerheads with Mr Sheria since they came to office in 2016 and now he says he will rope in ordinary membership to help him stop the privatisation claim that has since been denied by government officials.
Sheria explained that they differed with Sang on several matters, including the claim on the privatisation of the port and possible job losses because it has turned out to be his strategy to win elections while his popularity is fading.
"Job losses have not happened for years now. It is his strategy to win back the trust of port workers and union polls. We have decided to ignore him," said Sheria.
Sang has always courted controversy with both KPA management and his own team, leading to strikes and court battles.
Apart from leading workers' strikes, some of which have yielded juicy fruits for his 4,400 union members, Sang has had long-running wrangles with other top leaders in the union who view him as a lone ranger.
While Sheria and his team supported a government plan to place container terminal two under new operator in an arrangement with the Kenya National Shipping Line (KNSL), Sang vehemently opposed.
Recently, Sheria took on Sang for taking some private companies operating at the port to court. One of the firms Sang sued is linked to Joho family.
In September 2019, Sheria called a members' meeting at Bandari Maritime Academy and announced Sang's ouster but the bid failed.
Months later, Sang announced he had kicked out Sheria and his group from the union for failing to attend meetings but this too failed.
Even with the continued infighting and much drama, the leaders have come together during negotiations for Collective Bargaining Agreements (CBAs) with KPA management.
In an interview, Sang who joined KPA way back in 1983 and rose to the position of senior superintendent in a span of 22 years, defended his record as general secretary since 2006.
"I am not a lone ranger as they claim. Their problem is that they want me to share the executive powers with them. This cannot happen unless they change the constitution of the union and the Labour Relations Act 10," he argued.
The father of five who ousted former Changamwe MP Kennedy Kiliku as union boss in the 2006 poll, said he was seeking another term in office to chart a transition in 2026 allegedly aimed at putting a permanent mechanism for taming uncalled for privatisation at KPA.
But Sheria vowed to ensure Sang is ousted by union members at the poll in a bid to stamp out divisions in the workers' lobby.
The union chairman, who announced he will defend his position, said his team has a candidate to run against Sang but will be unveiled next month.
Mr Makero said he is about to exit KPA and will not defend his seat. Sheria's team has taken Sang to court over management of union funds.
Sang's tenure has been credited with the change of status of 3,225 casuals locally known as white cards to permanent and pensionable terms after a strike at the port, bridging the wage gap between the union members and management cadre.
From 2006, the salary for the lowest-paid worker rose from a paltry Sh11,000 a month to Sh37,370 currently.
House allowance was also increased from Sh5,000 in 2006 to Sh14,450. The highest-paid member's salary has since moved from Sh24,310 to Sh58,500 minimum. The maximum is Sh96,650.
"No other state corporation has achieved this level, but this is also because we make our own money," Sang said.
But Sang was in 2015 rendered helpless when KPA management sacked 28 union members including vice-chairman Michael Kituku, deputy general secretary Abubakar Abdillahi, assistant treasurer Judith Abuka and chief shop steward Renson Thoya.
They were accused of participating in an illegal strike over the National Health Insurance Fund (NHIF) rates.