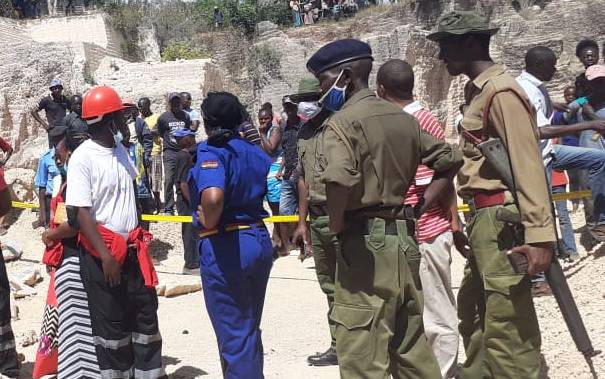 Two people have died after a quarry wall they were digging collapsed in Kwale County.
The police have identified the victims as Peter Ngani and Victor Wanyama. The two were buried alive when the incident happened at Maweni near Ukunda airport at around 8 in the morning.
Msambweni police boss Nehemiah Bitok who is leading the rescue operations told The Standard at the scene that the two men were crushed when then rocks they were digging caved in.
''The two had been digging the rocks at Maweni quarry when the wall collapsed, we mobilised the excavators so that we could try to retrieve the two,'' he told The Standard.
Other miners in the quarry unsuccessfully tried to rescue the victims and that is when they alerted the authorities.
The police and Red cross officials responded and are trying to retrieve the bodies of the two.
Police and county officials have hinted at the closure of the quarry due to exploitation endangering the lives of the miners.
In 2015, four children died at Mabatini in Matuga in a quarry tragic incident forcing the county government to close it up.