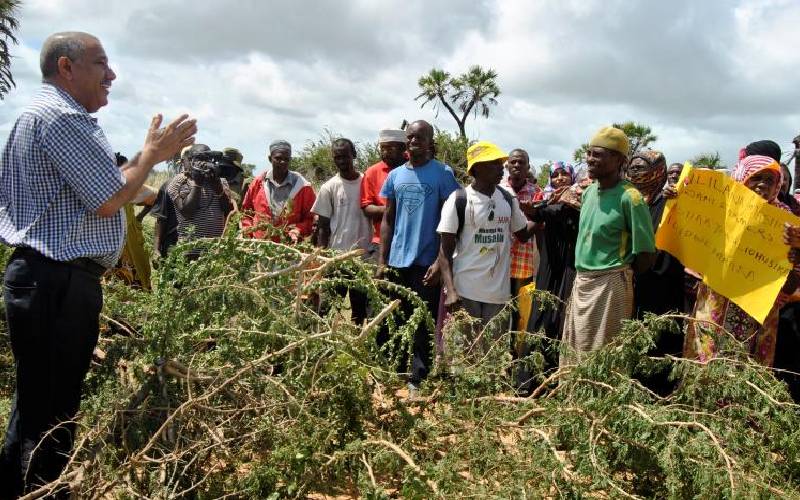 With an oil pipeline, railway lines and international roads expected to pass through it, the Nyambene National Reserve in Meru is expected to reap big from the proposed Lamu Port-South Sudan-Ethiopia Transport (Lapsset) projects.
The prospects of huge economic gains in the Nyambene region comprising Tigania and Igembe has seen residents and leaders demand that the Nyambene National Reserve be de-gazetted and land adjudication done.
Former minister for State Marsden Madoka in Legal Notice No 86 of 2000 declared the area a reserve, but now the local community wants it to revert to the public.
Kubai Mamira, a resident of Lailuba, said the land, which was held in trust by the Nyambene County Council before it was declared a reserve, belonged to the community.
Read More
Mr Mamira said there was no "much wildlife" in Nyambene, and that since the community-owned the land, it had the right to be given title deeds for it.
"The land might be sold without the community being involved. The Lapsset project is going to be the economic game changer in the area... We need our land back," said Mamira.
Mwenda Thiribi, a former commissioner with the Independent Electoral and Boundaries Commission and Meru Assembly Majority Leader Victor Kariithi said it was within the community's rights to demand their land rights.
But Mr Thiribi said for the community to gain, the Meru County Government must first effect a change of user of Nyambene Reserve and involve the residents in the process.
"This land should be shared by the people of Nyambene. At the moment, it remains a national reserve. A change of user cannot be done without public participation. Residents will determine how they want it used," he said.
Thiribi said if residents have their way and decide to have a share of the land, their plot numbers can be issued after mapping the area through the GPS system.
"The 640 square kilometre Nyambene Reserve is at the heart of Lapsset. With six international roads, a railway to Addis Ababa and Juba, an oil pipeline and other projects, this area will be one of the most developed in Kenya. We have the Meru, Borana and Turkana communities here, and all will be considered," he said.
Market value
He said once adjudication and issuance of titles are done, landowners will be able to negotiate the market value of the land and get compensated.
In 2014, former Igembe North MP Joseph Eruaki presented a petition by residents in the National Assembly seeking to have the gazette notice issued by Major (Rtd) Madoka reversed and the land reverted to the community.
Mr Eruaki said the legal notice curved out 640.6 square kilometres of land to create Nyambene National Reserve and noted that there were six national parks all within a 50-kilometre radius that cater for conservancy in the area.
Eruaki said the gazettement of the national reserve was done without consulting the people at the grassroots whose livelihoods depended on the land for farming and grazing and that the area was also prime land for development of Isiolo Resort City and Lapsset. [Phares Mutembei]