Protesters use boats to block sand harvesting at Diani Beach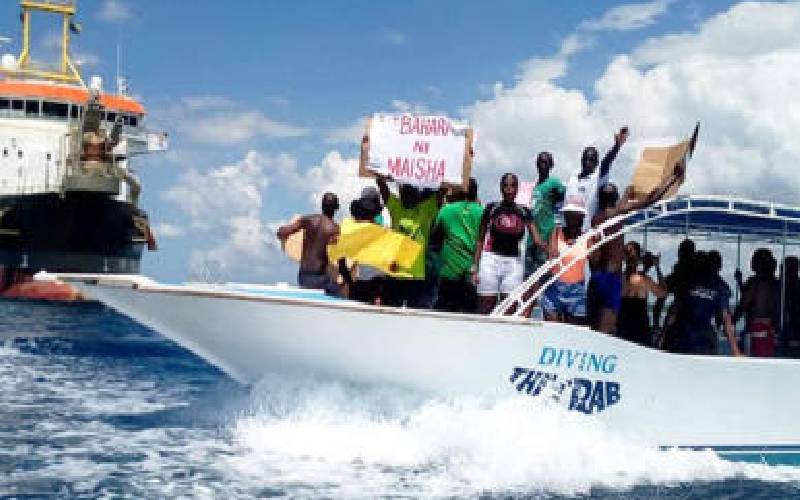 Opposition to sand harvesting at Diani Beach continued on Saturday with protesters using boats to block a contracted dredger.
The scene was similar to protests by Greenpeace activists known to block huge vessels from carrying out whaling - the practice of hunting and killing whales for their oil, meat or whalebone - along the coast of Japan.
Yesterday, the protesters who included hoteliers, marine experts and environmentalists, used outboard engine boats to block the dredging vessel, MV Whillem Van Oranje, from scooping sand from water.
Speed boats
The protesters converged at the historic Kongo Mosque before heading to the sea and boarded different speed boats.
Those behind the project want to scoop sand for use in the construction of the Sh40 billion Kipevu Oil Terminal at the Port of Mombasa.
Hoteliers say dredging sand will affect their business by destroying the beach that has been a major tourist attraction for years.
"Let it be known that harvesting sand from Diani and any other beach is illegal. Diani Beach is likely to lose its allure of a clean white sandy beach once sand is scooped. Let them find another source of sand for port upgrade works. We will not allow them to destroy the livelihoods of those who depend on the beach," said Mr Sam Ikwaye, the Kenya Association of Hotelkeepers and Caterers executive officer for Coast.
Diani Beach has some of world's top hotels and resorts, whose image has been boosted by the white sandy beach. They included Five Star Diani Reef Beach Resort & Spa, Jacaranda Indian Ocean Beach Resort, Baobab Beach Hotel, The Sands at Nomads, Leopard Beach Resort & Spa, Swahili Beach and the Sands at Chale.
Environmentalists have been leading campaigns against sand harvesting. Also joining the protests are residents, fishermen, tour operators and beach operators, among others.
The county government has also denounced the venture.
Land and Environment Executive Saum Beja said they were not aware sand was being harvested from the beach until the protests were reported.
"We have been in the dark as far as the matter is concerned. Neither the Kenya Ports Authority nor National Environment Management Authority (Nema) has consulted us on the same. None has sent us notification on the intended plan to harvest sand," said Ms Beja.
She said the county government was opposed to sand harvesting and asked those involved to stop as it will affect the environment.
Breeding grounds
Last week, more than 200 fishermen and fish vendors from Tiwi in Matuga went to the beach to protest. They said harvesting of sand would destroy fish breeding grounds.
Beja accused KPA of failing to follow due process before launching harvesting of sand from the sea.
"The authority did not carry out social and environmental impact assessment. The assessment was done at Kipevu and Port Reitz in Mombasa yet they have decided to extract sand here. Why?
"They never consulted anyone. Many people rely on the sea for their survival, that is why we will not allow this project. Sand harvesting is immensely affecting aquatic life," she said.
Beja said the county had already written to KPA expressing its displeasure in the manner it has approached the project.