Tears for three teenagers shot dead by police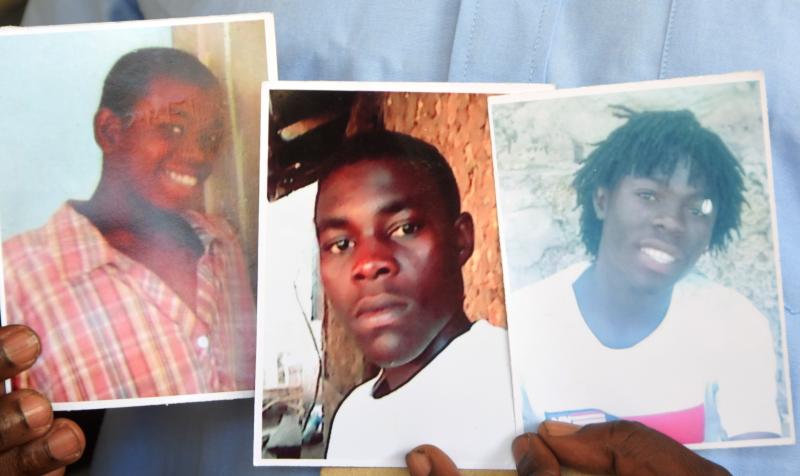 Three families are mourning three teenage sons shot dead by police in Utange, Mombasa County.
Witnesses said police on motorcycles rode into the village on Thursday evening, rounded up Bilal Ndaro, 17, Kenga Masha, 19, and Juma Kazungu, 18, handcuffed one of them, cordoned off the area then shot them each in the head.
Rights groups and family members now want the officers involved in the killings arrested and prosecuted. But police say the officers killed the teenagers in self defence after they were attacked.
Muslim for Human Rights (Muhuri) and Haki Africa civil society groups led relatives of the victims in demanding for justice and an end to arbitrary police killings. "Every human being has a right to live. It is sad to see police ursurp powers and silence innocent people in the name of fighting insecurity," said Muhuri Chairman Khelef Khalifa, who was flanked by Haki Africa Deputy Executive Director Salma Ahmed.
Khalifa warned that due to an increase in police killings, the public could get angry and turn against the law enforcers.
He said his organisation will foot bills for postmortem and institute legal proceedings against officers who fired the killer shots.
But Mombasa police boss Johnstone Ipara said the three teenagers were involved in violent criminal activities.
"These youths were armed and when challenged by police to surrender, they tried to charge at armed officers, leading to the shooting. We had credible leads from the public who tipped us off on the activities of the youths," said Ipara.
He said the three charged at police officers wielding machetes and ready to attack.
Part of a gang
Ipara said the three are part of a gang of 10 who had been terrorising residents of Utange in Kisauni constituency and reportedly used a building under construction as their hide out. Ipara hit out at the civil society groups for jumping to defend "criminals" and glorify them and asked them to review their strategy. But family members said two of the boys used to sell second hand clothes while the other was a boda boda rider.
Salma said it was despicable for police to misuse government firearms and resources paid for by taxpayers' money to harm them.
"We will join hands with all like-minded Kenyans in the quest for justice for famillies of those brutally killed by police," she said. Muhuri's Rapid Response Officer Francis Auma said out of the 58 people who have been killed by police in Mombasa since January, eight were school children.
"We suspect police are using a special unit to finish off youths in the war against insecurity in Mombasa. In the process, some innocent people get killed," Auma said.
And bereaved family members who had converged at the Coast Provincial General Hospital mortuary ahead of a postmortem examination Friday, demanded swift action against the police officers involved.
"I have known Bilal as an innocent boy. He dropped out of school at Standard Five because his mother could not afford fees. He then took up boda boda business," said Bilal's aunt, Fatma Said.
Kenga's father, Kazungu Masha, said the police who executed their children were merciless and did not allow relatives to see the bodies at the scene.
The rebirth of Uhuru Kenyatta
From living in 'captivity' in his first term to saying he was hopeless, President's purge has confounded both friend and foe