Western diplomats fail to persuade Joho and Kingi on secession crusade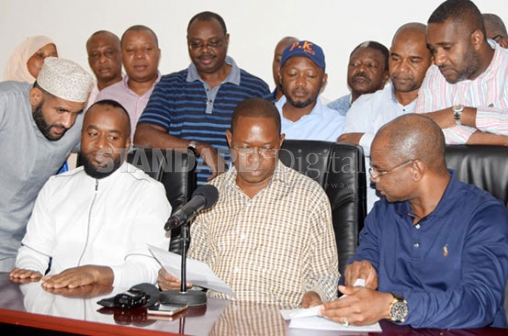 Western diplomats have failed to persuade two Coast governors to drop their campaign for secession.
Governors Amason Kingi and Hassan Joho of Kilifi and Mombasa respectively are among leaders pushing for the independence of the Coast region.
"We have already began the journey towards self-determination," said Joho.
And Kingi would declare after hours of a closed-door meeting in Mombasa town: "We will continue to stand our ground. We have given our reasons for seeking secession."
Lamu's deputy governor, Abdulhakim Aboud Bwana, attended the meeting.
The envoys, who included Britain's High Commissioner Nic Hailey had invited all the region's six governors to the talks.
Until the onset of colonialism, most parts of the Coast region were governed by the sultanate of Zanzibar from 1856.
Ceding Zanzibar
In 1890, Zanzibar and the UK signed the Heligoland Treaty ceding Zanzibar to Great Britain as a British protectorate.
In October 1963, Kenya, Zanzibar, and the UK signed a pact transferring the Kenyan portion of the Zanzibari sultanate to the soon-to-be-independent Kenya.
Coastal leaders promoting secession say the conditions of the 1963 treaty, which guaranteed Coast residents that their welfare would be taken care of, have been frustrated by independent Kenya, hence the push for independence.
Reports indicated that the parties at the meeting agreed on most issues, including combating radicalisation and terrorism, but failed to agree on the issue of the region's self determination.
Governors complained
The governors complained the region has been marginalised for many years and that local residents are not willing to take it anymore.
They also accused the national government of failing to implement the Constitution. They said historical injustices have made union with Kenya untenable and equal to a cruel marriage.
Hailey, European Union ambassador Stefano Dejak, Danish's Mette Knudsen, and French ambassador Antoine Sivan said Kenya must remain united.
They urged the governors to dialogue with the national government over alleged exclusion.
"What we have told the governors is that the country's need for now is to have Kenyans unite and hold conversations on how they can develop together," said Hailey, who read a statement on behalf of his colleagues.