Former GSU man charged in Kwale over links with terrorism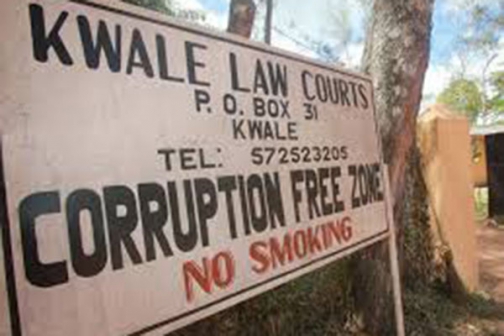 KWALE: A former GSU officer associated with terror activities was yesterday charged in a Kwale court with the illegal possession of a grenade. Police claim they found the grenade on Alfan Rashid alias Juma Mwakambirwa when they arrested him on July 25 this year at Ngomeni in Kwale County, and have classified him as among the region's eight most wanted criminals.
Escorted to court under heavy security, Rashid, who had been in police custody, was asked to pay a Sh500,000 bond and surety of a similar amount by Kwale Principal Magistrate Cosmas Maundu.
He denied the charge of handling a hand grenade without a firearm certificate.
"It is not true," he told the court. Maundu directed that the suspect be given statements at his own cost. The hearing was set for November 14 while a mention of the case will be on the 24th of this month. Rashid was arrested in connection to the killing of three Nyumba Kumi officials and a reformed Somali returnee in Kwale County.
He was among the list of wanted terror suspects circulated by Inspector General of Police Joseph Boinnet on May 30. Others were Ali Haji, Ali Salim, Said Athman, Said Hassan, Ali Hamisi, Ali Musa and Hamisi Musa.
A special team of detectives earlier deployed in the South Coast had trailed him for months in vain, according to Kwale County Criminal Investigations Department officer Edwin Kamau. Reports indicate the suspect retired as constable after serving for 12 years as a police officer before being recruited by the Al Shabaab to train other militants.
Kwale OCPD, Patrick Oduma earlier told the Press that the suspect would assist detectives with information that will lead to the arrest of other key Al Shabaab members on the run. "We request the public to submit information on the other suspects to police stations," said Oduma.