13 container stations shut over illegal goods at the port of Mombasa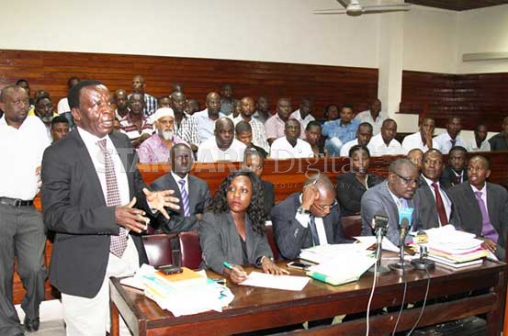 Police have been asked to investigate port employees who processed contraband cargo seized at 11 container freight stations.
The State has escalated the crackdown on revenue leakages at the Port of Mombasa and reports indicate that 13 container freight stations (CFSs) have been closed.
The investigation, Director of Public Prosecutions directed, should focus on Kenya Ports Authority (KPA) and Kenya Revenue Authority (KRA) employees who handled documentation and or any other issue related to the contraband cargo that left the port for the CFSs between November last year and January 28.
Eight businessmen and women were charged with false declaration of goods that ended up in these CFSs in Mombasa.
Yesterday, Mombasa Chief Magistrate Susan Shitubi ordered the arrest of Mary Gathemia and Pius Kinyua after they failed to appear in court over false declaration of 400 drums of ethanol at the port on February 10.
The State has charged them alongside a KRA officer, Hillary Bett, and a third businessman with conspiracy to deny Government revenue and importing a restricted commodity (ethanol).
The prosecution said the trio imported 400 drums of ethanol worth Sh7.3 million, which they falsely declared as base oil. They were also charged with conspiracy to conceal 800 drums of ethanol packed in five containers.
In another case, Inukollu Venkata Sivakumar, Omprakash Lokpal Singh, Priscillah Okello, James Makokha and Antony Njenga Karugu, who are four agents of a Mombasa based firm, were charged with false declaration of imported goods on May 15, 2015.
Yesterday, KRA's lawyer David Ontweka told The Standard that there were 11 other container freight stations that had received suspension letters similar to those of Auto Port and Port Side Terminal Freight stations. The latter two are associated with Mombasa Governor Hassan Joho's family.
Reports show the 11 unnamed CFSs were suspended for handling illegal goods and false declaration. Mr Ontweka, who yesterday flew to Mombasa to represent KRA Commissioner General John Njiraini in contempt proceedings, said KRA was ready to defend its decision in court. KRA is accused of disobeying a court order to lift a ban imposed on the two CFSs.
"We have not disobeyed the court order and that is why I am in Mombasa to defend the boss," he said.