Mpeketoni terror suspects to stand trial after judge finds enough evidence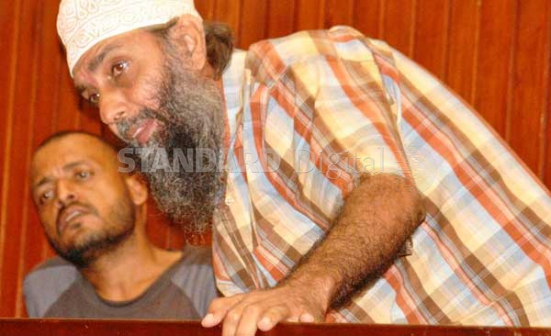 A Mombasa court will proceed with a case in which two men are charged with mass murders in Mpeketoni, Lamu.
The High Court put the duo on their defence in connection with the June 15, 2014 slaughter of 60 men and a woman in carnage claimed by Al Shabaab. High Court Judge Martin Muya yesterday said Mahadi Swaleh Mahadi alias Jesus and Diana Salim Suleiman have a case to answer.
State witnesses told the court Mr Suleiman hired the vehicles that ferried the attackers. They also claimed he participated in the murders and was in contact with the militants before and after the killings.
The witnesses accused him of misleading investigators that he left his cellphone in Malindi as a ruse to mask his movements. A survivor of the slaughter said Suleiman was among the killers.
Justice Muya said: "I have perused the evidence adduced in the court during the trial and found that the prosecution has established a prima facie against the accused."
Their lawyers, immediately announced that they would call witnesses to demolish the State's case arguing Mr Mahadi and Suleiman had no connection to the violence and were not at the scene on day of the killings.
Taib Ali Taib, Mahadi's lawyer, said his client would call 10 witnesses to prove that he was not among the militants while Suleiman's lawyer, A B Olaba, told the court that his client would call three witnesses.
During the trial, a single witness who testified under protection and cannot be named due to a court sanctioned gag order, said he saw Suleiman among the attackers.
Early yesterday the witness said men in jungle uniform stormed his house. "Before I could start the journey to the village elder, they tied my hands with a rope and started hurling all sorts of insults at me as we walked to the place they were headed to," said the witness.
The witness recalled that on their way one of the attackers suggested they visit a woman who sold alcohol in the area and confusion ensued. The witness escaped.
Suleiman has told the court that he was hijacked in his vehicle in Witu and injured by the attackers who forced him to ferry them to Mpeketoni. He said he was arrested after seeking treatment at a Lamu hospital.
Mahad said he was in Malindi on the said day, although his cellphone records brought to court by the State indicated he was in Mpeketoni on the dreadful night.