We must stop living in denial and admit our problem is corruption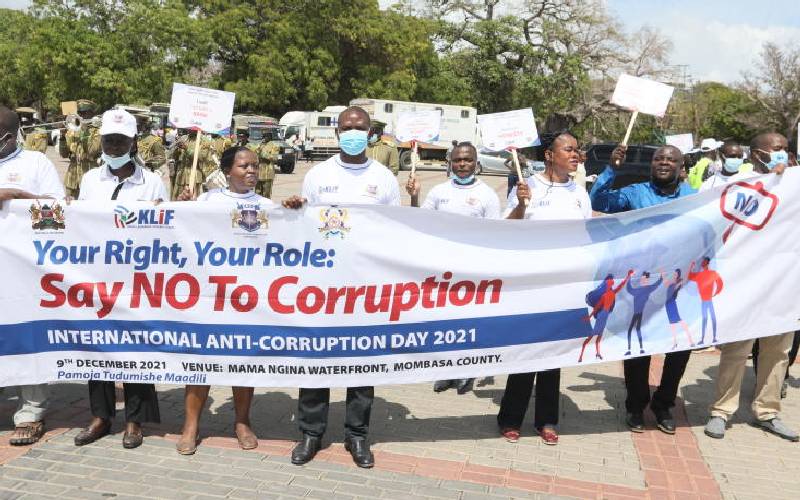 That most Kenyans, and particularly those who work for politicians, are hypocrites is never in doubt. They change positions on issues of national importance if they favour or are against the rhetoric of their favourite politicians.
This past week, they were out in their best, twisting academic theories and losing their temper over last week's article here. On social media and in emails, they were hurling invectives over the piece which submitted that Kenyans suffer because of corruption and not the economic model they are under.
Like the politicians they work for, prominent Kenyans in various fields of specialisation increasingly prove that they cannot take this country to a better level because they encourage low-income Kenyans to embrace and worship poverty. They wax lyrical about their distaste for corruption, but quickly change tune when a popular narrative does not sit well with the rhetoric of the politicians they pay obeisance to.
It is disingenuous, nay, foolhardy to deny that corruption has killed, and continues to kill the dreams of very many Kenyans. As a matter of fact, corruption is the biggest reason why many are at the bottom of the pyramid and can hardly make ends meet.
We can bandy around academic theories, and dismiss everyone who is not in intelligentsia, but it is common sense that without corrupt politicians and their cronies, fewer Kenyans would be suffering.
Several sectors of the economy are in the dumps, and basic and essential services are a luxury because ours is a country where corruption is legal tender—and government tenders are awarded through corrupt ways.
To use a tired Kenyan cliché, the country's public health sector is sick—and it is sickening to see Kenyans suffer because public funds were plundered by individuals close to powers-that-be.
Not long ago, Kenyans unitedly castigated the government when medication and equipment from a United States agency were held at the port while people who needed them were suffering. The story, which was never denied by the government, was that the agency was irked by runaway corruption and wanted to take part in the distribution process.
Medical supplies
During the same period, there was the case of the medical supplies authority giving contracts to passersby, with people who had traded in grains all their lives getting tenders to supply medical equipment whose names they couldn't pronounce or spell. There are tens of millions of families without access to clean drinking water because funds drained into private pockets. There is insecurity in many parts and the police live in deplorable conditions because funds meant for their equipment and better working conditions were squandered.
This is a country that paid export compensation for gemstones it did not have, yet government documentation, with the required signatures, was used to process payments—and Kenyans from all walks protested bitterly and sought regime change.
One does not need a degree in law or economics to understand that the billions of shillings that were stolen could have been used to deliver essential services.
Isn't ours the country where the Head of State admitted that billions of shillings are lost daily, and at some point blamed an arm of the government for frustrating efforts to fight graft, then exasperatedly asked Kenyans what they wanted him to do?
How else can we claim that corruption isn't an issue that needs to be eliminated, and deny that it hampers delivery of services?
Every year, the auditor general gives a report of public funds that cannot be accounted for because the looting, and subsequent impoverishing of Kenyans, never stops. But we still don't want to admit that we have a problem.
No economic theory can explain away the fact that corruption denies people essential services, but also kills as they die from preventable diseases because of lack of medication and equipment.
Corruption impoverishes a nation, and examples abound in Africa, thus, it is wrong to lie to Kenyans who understand suffering and derisively dismiss them when they point out that corruption is the country's most dangerous cancer.
What is the point of projecting oneself as a paragon of good governance, and point out underhand deals of others, but turn around and bandy around political and economic theories to defend corruption?
If corruption were really not a problem, why would there be an independent anti-corruption body? What would there be need for economic crimes courts, and why would economic crimes be in the penal code?
We have to face the facts, and the reality. We have to be truthful to ourselves. If we are not, no wealth will trickle down and neither will the economy be built from the bottom.
We not only have to stop electing thieves, but we have to change the narrative: Corruption is the biggest cancer and fighting it must be a priority for every Kenyan, and especially political leaders.