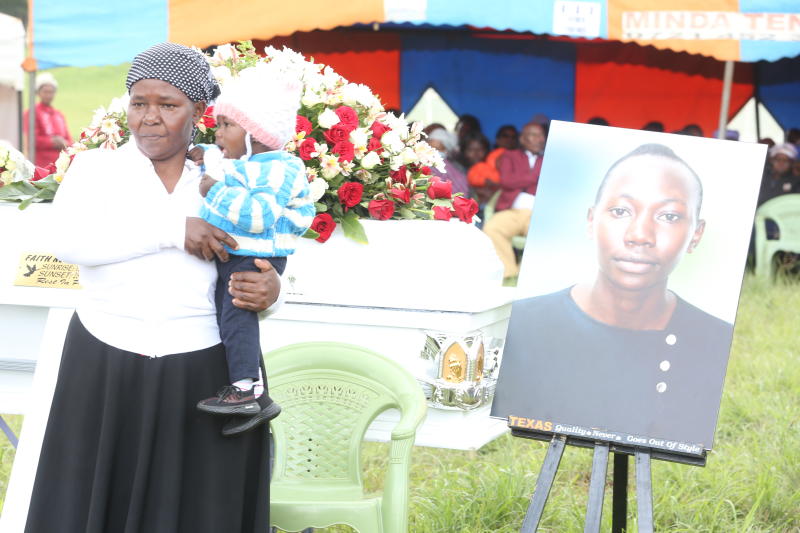 Mourners thronged Ndiuni village to pay their last respects to a woman who died after a scuffle with her husband.
Faith Njambi died at the Nairobi Women's Hospital where she had been transferred from a Rongai clinic.
Police reports said Njambi died from two stab wounds.
The reports showed that her husband, Samuel Mbugua, 26, travelled 52km from Ndeiya in Kiambu County to Rongai in Kajiado County where Njambi lived and allegedly stabbed her.
Njambi, 24, crawled out of her room to the door looking for help and was rushed to a hospital in Rongai by neighbours.
Njambi, who was laid to rest yesterday at Ndiuni village in Ndeiya, leaves behind a three-year-old son.
During the burial, Njambi's workmates from Rongai said she was a dedicated worker at the supermarket where she was an accountant.
At the burial site, Mbugua's family took a photos with Njambi's parents. The two families are neigbours at Ndiuni village and worship together at Kenya Assemblies of God church.
Mbugua's father is an elder at the church while Njambi's father, Rev Paul Mbute, is the pastor of the same church.
Mbugua and Njambi were youth members at the church from when they were young.
When the photos were being taken, Mbugua's father was overwhelmed by grief even as Pastor Mbute tried to calm him down, moving mourners to tears.
Mourners called on the villagers not to condemn Mbugua and also to stop talking ill of the situation.
Elizabeth Wangari, the senior chief, called on men to openly talk about the challenges they may be going through.
"Men have really suffered at the hands of women; they have been pushed to extremes in their families and they rarely talk and end up exploding," Wangari said.
Mbugua, who was arrested at his father's home in the dead of the night and transferred to Rongai police station, is expected to be arraigned.