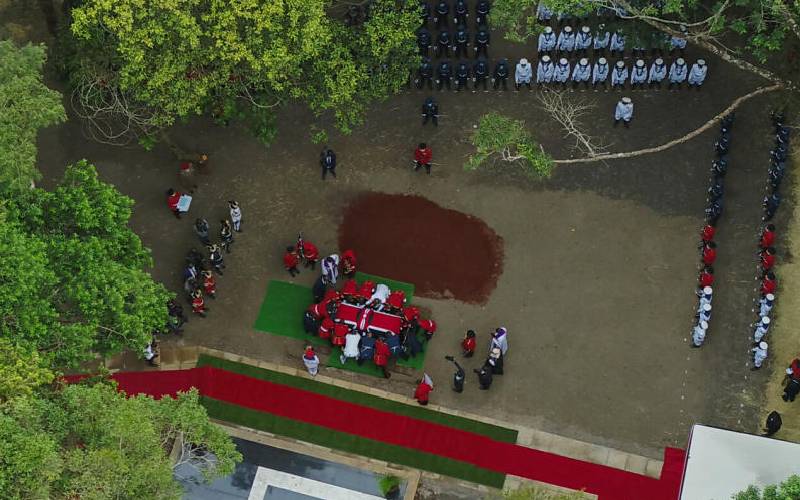 Nyeri county yesterday said farewell to an illustrious son who served as Kenya's third president.
Mwai Kibaki's remains were interred at his rural home in Kanyange village in Othaya after a colourful final drive through roads he rebuilt during his presidency.
The open hearse driven by uniformed soldier and the funeral convoy snaked its way out of Nairobi into Thika Superhighway and along the Great North highway to Karatina where it took the Mathaithi-Mukurwe-ini road into Othaya.
The Jaguar hearse struggled to manoeuvre through the multiple speed bumps on the highway currently being converted into a dual carriageway.
The convoy stopped only twice.
At Sagana, there was a changeover for hearse driver and at Jambo, Karatina apparently to organise a befitting drive through the crowded township and to consult on the final route into Othaya.
Agricultural town
Near the entry to Othaya township, the body was removed from the hearse and placed on the military gun carrier that had been used in Nairobi.
Then it made its way into the Othaya Approved School grounds where it was received by Kenyan leaders, including President Uhuru Kenyatta.
Karatina town gave Kibaki a grand farewell residents lining up the length of the agricultural town and the convoy had to slow down.
Most of the Karatina residents waved white handkerchiefs as the cortege was driven past, a befitting farewell to a politician who was least combative in his political career.
But residents who had turned up along Karatina-Nyeri road were a disappointed after the cortege diverted into Othaya through Mukurwe-ini.
Crowds at Giagatika market, Marua, Gatitu, Nyeri town, Giakanja and other smaller markets were disappointed too.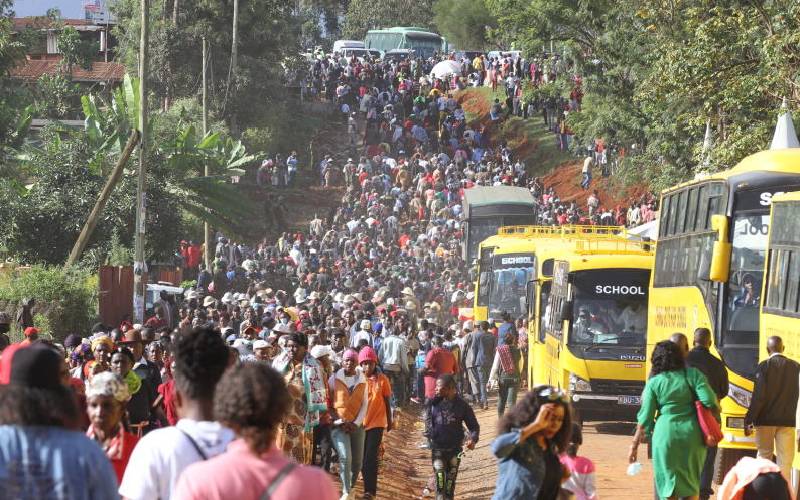 Once the convoy had passed, the people immediately disappeared, perhaps to follow the live feed from their homes.
It had been thought that the cortege would pass through Temple Road to Nyeri Post Office then to Green Hills Hotel, Nyeri National Polytechnic and proceed to Othaya through Gospel Outreach Church.
A sound truck had been going around Nyeri and its outskirts on Friday night urging residents to come out in large numbers to give their last tribute to Kibaki.
"I had turned up as early as 7am to get a good view point but at around 10am, I learned that the route had been changed," Benson Njuki, a resident, said.
Residents started streaming into Othaya Approved School grounds from 6am.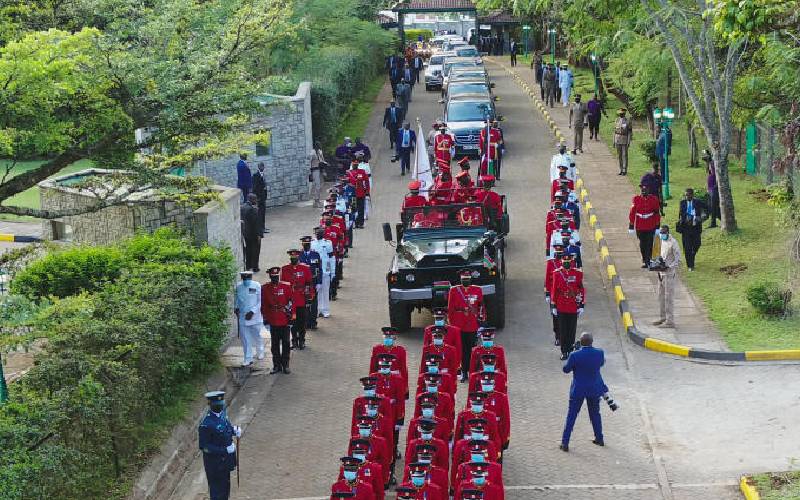 Security at the venue was tight with the elite General Service Unit (GSU) Recce Squad screening the crowds.
National Youth Service (NYS) officers were deployed for crowd control within the grounds and outside.
Mourners were getting a loaf of bread, a 500ml soda and 500ml of bottled water each before being shown to their seats.
Police threw a cordon around the small township yesterday until Kibaki's body was lowered into its final resting place.