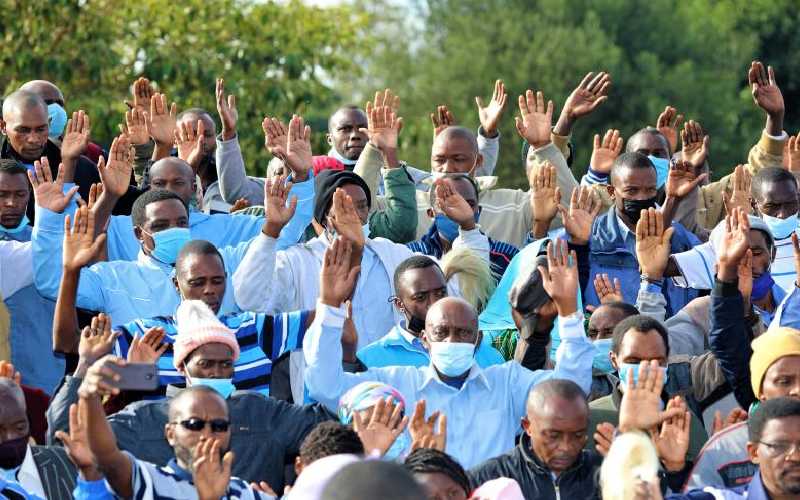 Hundreds of people from different denominations held their annual pilgrimage to Mt Kenya where they conducted prayers in seven stopovers as they drove towards the mountain in an anticlockwise manner.
The pilgrims who included Christians, Muslims, Hindu, Rastafarians, and other faithful from different countries believe Mount Kenya has spiritual powers that when evoked, great things happen.
Most include members of different communities such as Mijikenda, Luo, and Somalis setting aside their ethnic and cultural beliefs to pray for the nation.
Cultural leaders and scholars were also brought on board for the prayer sessions.
Tying a blue ribbon on the wrist, neck, or their cars for easier identification, hundreds of people briefly stopped at Samson corner junction along the busy Mwea-Embu Highway where they prayed lifting their hands while facing Mt Kenya.
After the prayers which happen every December 27 organised by Gikuyu and Mumbi Cultural Museum officials Samuel Kamitha and Ruth Enkeseni, Kamitha conducted the prayer session.
He started off the ceremony by conducting special prayers for the children and blessing them where he later emphasized the importance of the prayers.
"We believe the mountain is at the center of the world and after paying pilgrimage by surrounding it in an anti-clockwise manner, the country becomes stable. We have done it since 2008 and we shall pass on to future generations," Kamitha said.
The event has a cultural attachment to the Gikuyu community, who believe that their god, Mwene Nyaga, resides in the mountain, although the annual event has in recent years attracted other communities.
Kamitha said part of their long-term aim is to construct a prayer center in the mountain so that the pilgrims will get shelter every time they visit the mountain with an aim of speaking to their creator.
"The mountain belongs to all people from different walks of life and we believe we serve our God and when we unite to pray him through our unique ways, he hears our prayers. God hears children and that is why we have started with praying for them," he added.
On her part, Enkenseni said some of the prayer items for this year would be peaceful elections next year and the Covid-19 pandemic.
She said they have held prayers for 13 years because God has answered some of the issues they prayed for which encouraged them to keep their faith.
"God has always been on our side and that is why the number of those seeking to join us soar every year," she added.
A 2017 presidential hopeful Dr Japhet Kavinga Kaluyu joined the group saying prayers were important as the country was heading to an electioneering period.
To foster peace and unity during the politicking period, Dr Kaluyu urged his competitors not to result using violence while urging the youth to reject plans by Presidential aspirants to use them to advance their selfish agenda.
"Anyone who uses violence has no agenda for the country and must be rejected at the ballot. We want a peaceful country because we have nowhere else to go after the elections," he said.