Officers charged with killing Embu brothers seek bail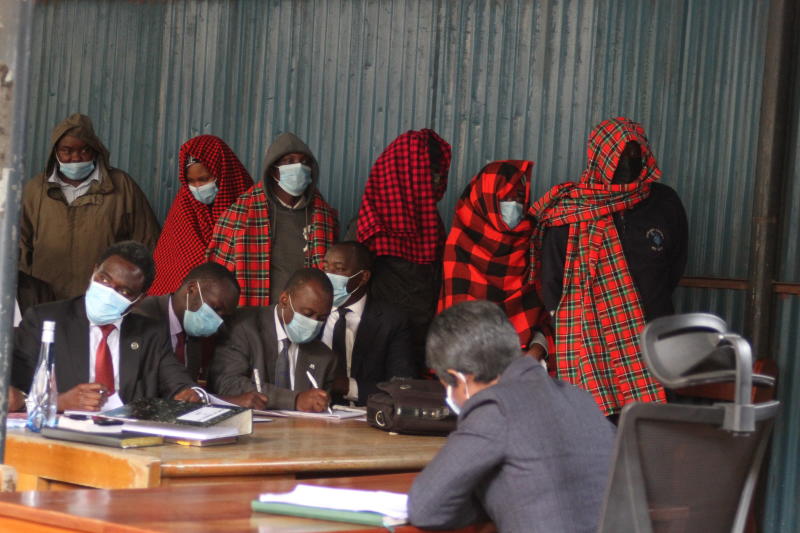 Six police officers charged with the murder of brothers in Kianjokoma village, Embu County, have filed an application to be released on bail.
Through lawyer Danstan Omari, the officers argued there are no compelling reasons to continue keeping them in custody after being charged with the murder of Benson Njiru Ndwiga and his brother Emmanuel Mutura Ndwiga.
"There is an indication that all investigations have been concluded which means they cannot interfere with the evidence. As of now, they are presumed innocent and are entitled to be released on bail pending the trial," said Omari.
Omari said no one has complained of being threatened by any of the accused to warrant their continued detention and that they are willing to abide by any condition the court would give to secure their release.
Benson Mputhia, Consolata Njeri, Martin Wanyama, Nicholas Sang, Lillian Cherono and James Mwaniki, last week, denied killing the two brothers on August 1 at Kianjokoma village in Embu North sub-county when they were charged before Justice Daniel Ogembo.
Mr Omari submitted that all the officers are Kenyan citizens with known fixed aboard and cannot flee from the court's jurisdiction whenever required.
"They voluntarily turned up when the investigators required them to assist in unraveling the death of two brothers and have remained in custody since September 17. It is unfair to keep them in custody when they have a right to be released on bail," said Omari.
Mputhia, in his affidavit to support the application, maintained they are innocent of the murder charges and gave an account of what happened on the night the two brothers died.
According to Mputhia, they were on patrol with his five colleagues to enforce Covid-19 curfew when they heard that some bars at Muchagori were operating beyond the stipulated curfew hours.
After arresting two people operating a bar, the officer said they proceeded to Kianjokoma market where they arrested the two brothers and six other who were operating beyond the curfew hours.
He said it was not until they reached the police station that they realised only eight of the 10 arrested persons were present. "At that juncture, one of the suspects informed us that two suspects jumped out of the police vehicle," said Mputhia.