Slain Embu brothers to be buried on Friday as officers are transferred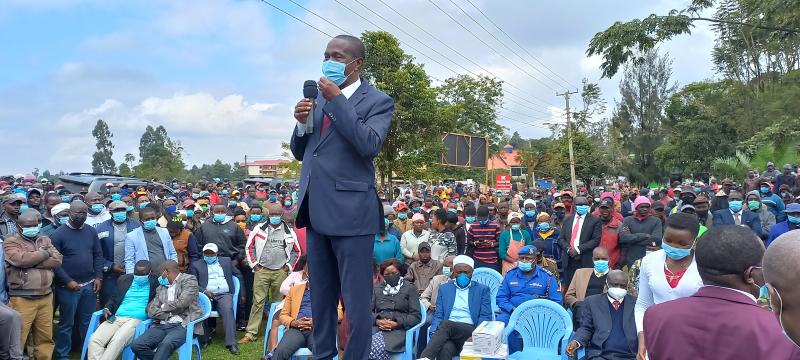 The two brothers who died in the hands of police will be buried on Friday 13, August at their home in Kithangari, Embu County.
Felix Nthiga, the family spokesperson, said burial preparations are underway. "We have agreed with the church to have the burial on Friday," Nthiga said.
At the home, workers were busy setting up tents, doing minor repairs, repainting the gates and sprucing up the compound.
The mysterious death of Benson Njiru, 22, and Emmanuel Mutura, 19, led to two days of protests in Kianjokoma town. One person dead and another injured when police engaged rioters.
The chaos forced the deputy inspector general of police Edward Mbugua to visit the area. He then ordered Embu North Sub-county police Commander Emily Ngaruiya and OCS Manyatta Police station to be redeployed to Eastern Regional Police headquarters, pending investigations.
Senior Superintendent of Police Abdullahi Adan Alio took over on Sunday morning as the new Embu North Sub-County Police commander. Adan worked as the staffing and operations officer at the Eastern Regional Police headquarters in Embu.
Acting Embu County Police Commander Kimani Mitugo said a new OCS had also been deployed to Manyatta police station. "The new officers will be unveiled on Monday."
The boys were arrested for allegedly flouting the 10pm-4am curfew on Sunday, August 1, outside their family shop in Kianjokoma shopping centre.
The boys' father, John Ndwiga, told The Standard that he looked for the children at the nearby Manyatta Police Station, but he did not find them.
A search for the missing brothers ended in grief on Tuesday, August 3, when the boys' bodies were found at the Embu Level 5 Hospital morgue.
The deceased's uncle, Felix Nthiga, claimed Njiru and Mutura were arrested by police officers attached to Manyatta station.
Njiru was a First-Year Bachelor of Laws student at the Kabarak University while Mutura had just graduated from the Don Bosco Boys Training Institute with a Certificate in Electrical and Solar Engineering.