Two firms win bid for Mwea water project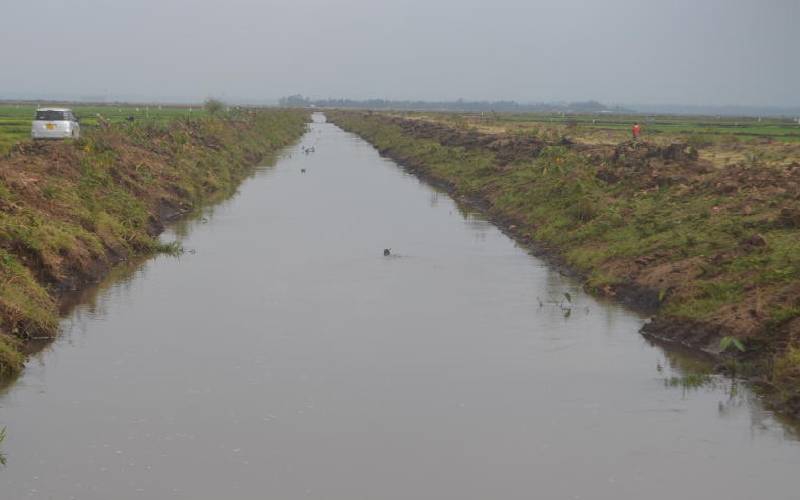 Two contractors have been awarded a contract to expand water canals in the Mwea Rice Scheme. The two were awarded the contract after the current contractor's engagement was terminated.
National Irrigation Authority Director-General Gitonga Mugambi said they expected the works to be completed by August, as the authority prepares for the handover of Thiba Dam later this year.
The main objective of the Mwea Irrigation Development Project that involves the construction of Thiba Dam is to double annual production on the 7,200 hectares of existing rice fields.
The canal works comprise more than 45 km of concrete channels and drains, 12km of access routes and 2,100 square metres of farm buildings.
The contract, which started in November 2016, was to take 38 months at a contract value of over Sh3 billion.
Meanwhile, the construction of Thiba dam is set to be completed by the end of this year, with filling of the reservoir starting soon after.
Stephen Mutinda, the project manager, told the National Development Implementation and Coordination Technical Committee during an inspection tour on Friday that the dam was halfway complete.
"With these major works now completed, what is remaining will be done between now and December when we will officially handover the project to the government," he said.
Committee members in the entourage included principal secretaries Hamadi Boga (Agriculture), Andrew Kamau (Petroleum) and Alfred Cheruiyot (Education).
The team was informed of the various challenges the contractor has been experiencing, including delayed reimbursement of import taxes for construction equipment and delayed land compensation for families in the project area.
Kamau said his team was convinced the contractor would deliver the Sh20 billion project by the end of the year.
Once complete, Mwea rice farmers will be able to cultivate two seasons a year, thereby doubling production.
Later, the team led by Kirinyaga County Commissioner Jim Njoka, visited Wang'uru Stadium which is also nearing completion.