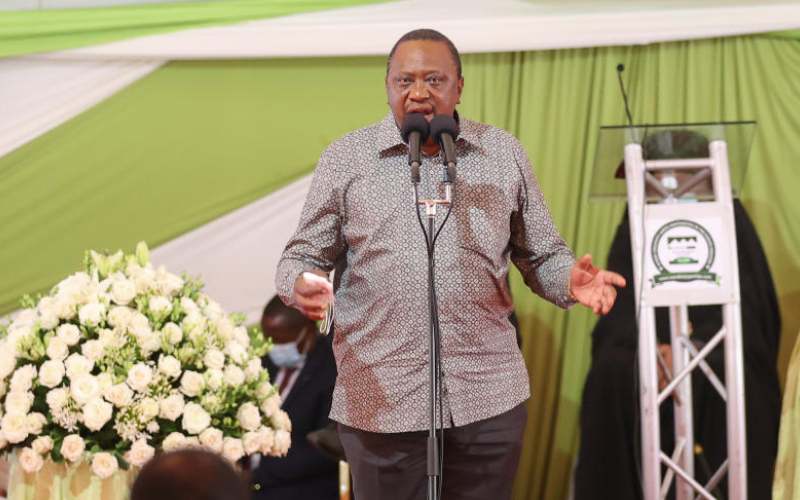 At the burial ceremony of Mama Hannah Mudavadi in Vihiga last week, President Uhuru Kenyatta told off those criticising his style of leadership, saying he was in full control of his government.
The president's sentiments came just days after one of his allies, Senate Majority Whip Irungu Kang'ata, had written to him painting a not so rosy picture of the popularity of the Building Bridges Initiative (BBI) in Mt Kenya region.
Kang'ata, who has stood by his sentiments in the letter dated December 30, 2020, warned that the BBI would fail in the region unless the president personally took charge of campaigns for the document.
He also advised Jubilee Party to change its strategy and work with all leaders for the initiative to register a favourable result.
His sentiments have drawn criticism, with president's allies accusing him of gravitating towards Deputy President William Ruto, a critic of BBI.
Read More
Kang'ata's letter came against the backdrop of critics of the president and erstwhile allies landing him political blows in recent weeks, even as he faces a full-blown rebellion by hardnosed allies of his deputy in the region.
The cast of those reading from a different script from the president is increasing by the day.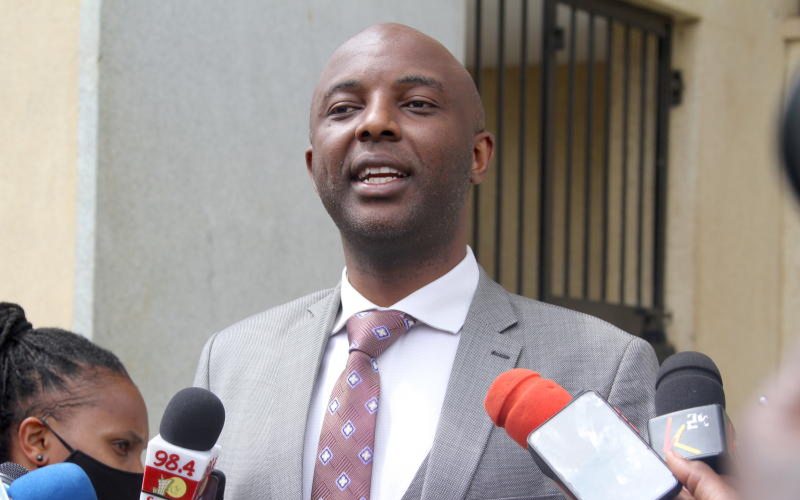 Besides Kang'ata, recent remarks by National Assembly Majority Leader Amos Kimunya on the president's legacy and his programmes raised eyebrows.
Kimunya said in a television talk show that he would not have advised for the building of the Nairobi-Naivasha Standard Gauge Railway line because it did not make economic sense, triggering questions on whether the parliamentary leadership was committed to securing Uhuru's legacy.
Now reports are emerging that Kang'ata has privately confessed that his heart belongs elsewhere and he was waiting for the opportunity to be released to join a rival political formation. He however declined to comment when we contacted him.
In a separate interview on his plans, Kang'ata left it to anyone's guess what his next move would be, saying he was only in Jubilee to finish his senatorial term.
Saving my job
"I will not decamp from Jubilee Party at the moment for the sake of saving my job, neither will I resign the parliamentary leadership position. I will remain as a Jubilee member until my mandate as a senator ends, otherwise, if I defect midstream, I will lose my seat," he said.
The president's allies in Central region believe the Murang'a senator is raring to jump ship to the Ruto camp alongside two other vocal pro-Uhuru allies and that he had wanted to engineer a sacking through his letter.
Kang'ata has however dismissed claims of planning to ditch the president's faction for Ruto's, saying he is a whip for the ruling party and does not believe in 'factional' leadership.
He said the difference in views and opinions should not be a reason enough for him to either quit or resign from the party, arguing that even President Kenyatta and his deputy still "remain Jubilee Party members," despite their differences.
Laikipia Woman Rep Catherine Waruguru also earlier in the week admitted to the difficulty in marketing the BBI in the region. A former staunch Ruto ally who jumped ship, Uhuru allies say they expect her to return "home" at some point.
Even former minister Jamleck Kamau, who is seen as one of the frontrunners to succeed Murang'a Governor Mwangi wa Iria, has faulted the president's remarks at Mama Hannah's funeral on leadership.
"If I were in his shoes, I would have said a person who is proven and trusted by people should be voted in as the president and not because he comes from a certain tribe. Let us look at the ability of a presidential aspirant to lead the nation," said Kamau.
However, Nyeri Town MP Ngunjiri Wambugu exudes confidence that the president is still the Mt Kenya political kingpin. He says it is the other politicians in the region losing grip with the people and working on their post-2022 political prospects.
"People are trying to see where they will sit after 2022. They have refused to work towards popularising themselves and are waiting for the president to come and do the hard work as if they were elected when they were already popular," argues Wambugu. "That is what has caused the drama you are seeing in our region."
Mt Kenya Youth Caucus Chairman Linford Mutembei reckons that those rebelling against the president have their own problems. He believes the rebellion is spearheaded by leaders who are facing a re-election dilemma while many others are seeking to be bought into the system by the State.
At the Mt Kenya parliamentary group meeting held at Thika Greens in Murang'a County last week, over 50 invitations had been sent but only 31 MPs attended and five sent apologies. This means over 14 MPs who had been invited neither showed up nor sent any apologies.
"Out of the 91 elected leaders in the Mt Kenya region, less than 15 have been hoodwinked into beating drums of war instead of preaching unity. The remaining 60 continue to steer the region and country to a progressive path charted by the president," said Kirinyaga Senator Charles Kibiru, who is the region's BBI co-chair.
Kibiru said 16 others confess in private that the constitutional reform is good for the region "but they are afraid to antogonise their political masters".
Parallel meetings
On the same day that the Mt Kenya PG was meeting at Thika Greens, the 13-member Meru PG was in the first of a two-day retreat in Nyeri to deliberate their political future. Only four MPs were not in attendance. National Assembly Majority Deputy Whip Maoka Maore (Igembe North) and Rahim Dawood (Imenti North) were at Thika Greens but had no invites for the Nyeri meeting. Woman Rep Kawira Mwangaza and East African Legislative Assembly MP Mpuru Aburi were also not in the meeting.
"Even as the pro-Uhuru team was discussing their strategies of turbo charging the BBI in Mt Kenya and composing a team to spearhead this, our Meru PG was seriously considering how to build early bridges with Ruto who remains the presidential frontrunner for 2022," said a legislator who attended the retreat.
South Imenti MP Kathuri Murungi, who is the vice chairman of the Meru PG said, "We are very frustrated with the Jubilee government as a region as we feel we have been denied our rightful development."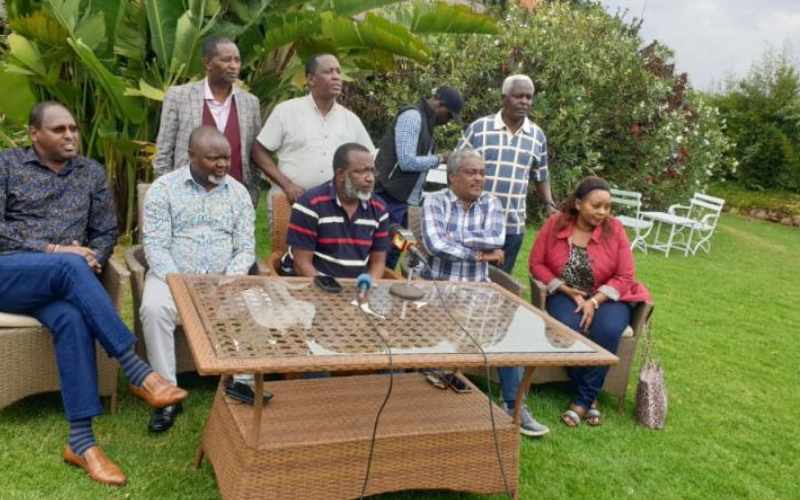 But Dawood, who alongside Maore are the only key MPs supporting the BBI, exuded confidence that the report will be approved when the referendum is called.
"Those backing the BBI are enthusiastic about it and are likely to be the ones who will turn out to vote for it. I have little doubt it will pass," said Dawood.
Elsewhere, Kirinyaga Governor Anne Waiguru on Wednesday appeared to drive another nail into the divided Uhuru camp in his backyard.
"On matters BBI, what do I say? Let me go quiet for a while, we all heard there is a committee that will be selling BBI (in Mt Kenya), we were told that committee is the leader of the process. Let us wait and see," said Waiguru.
Another interesting development happened this week regarding two Mt Kenya governors.
Ndiritu Muriithi (Laikipia) and Lee Kinyanjui (Nakuru) issued a press statement disowning online reports that they and two other counterparts from the region had held a meeting with Ruto in Nairobi on Wednesday.
"Our position on the BBI and the resultant constitutional amendments is publicly well known and well documented. The same can be said of our political affiliation. These positions have not changed," the statement read.
[Additional reporting by Ndung'u Gachane and Grace Ng'ang'a]