University to make ventilators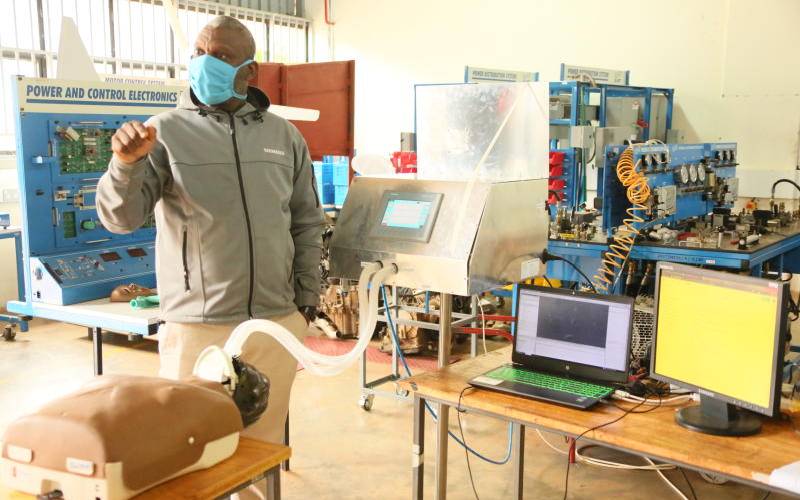 Dedan Kimathi University of Technology is the third Kenyan university to manufacture a medical ventilator to help overcome the shortages experienced after the outbreak of the coronavirus pandemic.
The idea was birthed from the medical equipment's demand and supply chain that is already under strain from companies around the world competing for the same for Covid-19 patients.
Jomo Kenyatta University of Agriculture and Technology and Kenyatta University are the other leaning institutions that have joined the race to make ventilators.
Ventilators provide mechanical ventilation by moving breathable air into and out of the lungs of a patient who is physically unable to breathe, or is breathing insufficiently.
According to Professor Jean Bosco, Director Siemens Training Centre who is managing production of ventilators at the university, the idea has been under development since March.
"We brainstormed on the role we could play and at first we thought the country could ran out oxygen but realised scarcity of ventilators was the most likely challenge we would face as a country," said the mechatronic engineer.
He noted that the initial development phase and design cost the university more than Sh2 million, even before they could start assembling for a ventilator.
"The whole process took us about five months but once we are fully certified we can produce similar ventilators in a week's record time at lower cost," he said, adding that Kenya Bureau of standards (Kebs) is satisfied with compliance of the set standard.
The institution has partnered with Laikipia County government who are providing the medical expertise on manufacturing the equipment as well as financial support.
"Our medical team including anesthesiologists, medicals engineers have been to the institution for medical know-how. We have committed to have the clinical trials done in our hospitals once they attain the mark of standard," said Dr Donald Mogoi, the chief officer in charge of health in Laikipia.