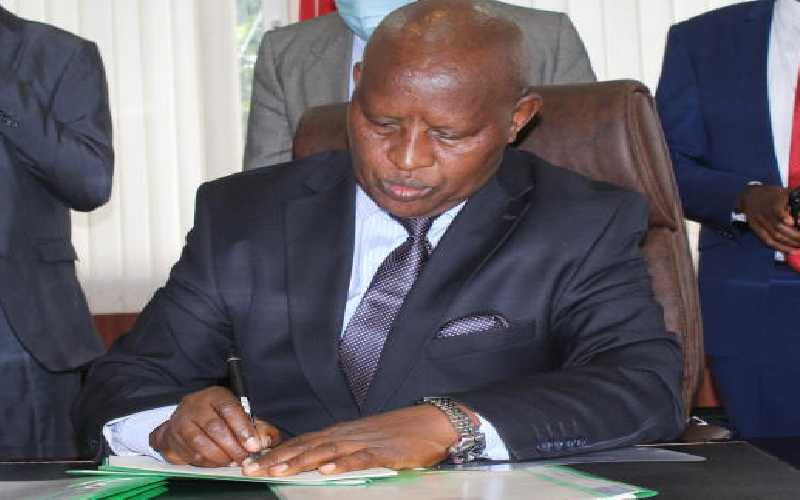 Nyeri County has deployed community volunteers to help with health education and contact tracing as it lays emphasis on home-based care and isolation of mild and asymptomatic Covid-19 patients.
The 2,510 health volunteers, drawn from 251 community units, were equipped with medical tools to champion prevention, contact tracing and stigma reduction at the community and household level.
Speaking during the launch of the community health Covid-19 prevention programme yesterday, Governor Mutahi Kahiga (pictured above) said the team would help with monitoring the patients recuperating in homes.
The comes at the time 12 doctors tested positive on Tuesday out of the 19 new cases reported in Nyeri.
"We have equipped them with health kits to help them attend to community members, who fear seeking medical assistance in hospitals due to the pandemic," said Kahiga.
Nyeri is among the counties with high cases of non-communicable diseases such as diabetes and hypertension, with Kahiga saying the victims are avoiding hospitals visits as they are listed in the vulnerable category.
Danger signs
"These volunteers will help in creating health awareness, tracking immunisation defaulters, monitoring expectant mothers for any danger signs and treating minor ailments," Governor Kahiga said.
Among the items issued were hypertension and sugar monitoring machines, laser thermometers and computer tablets for data collection.
"The whole idea is to embrace a community approach towards fighting the coronavirus," said the governor. He said the county has a 1018-bed capacity for Covid-19 patients.