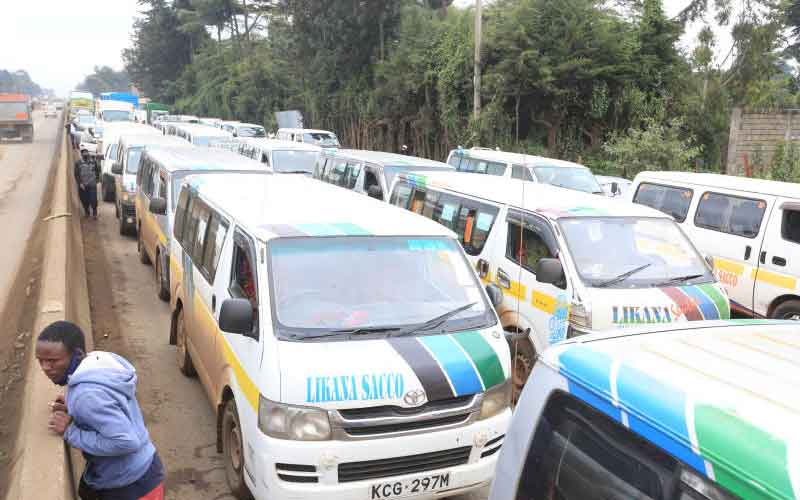 Interior Cabinet Secretary Fred Matiang'i was caught up in public protests over a roadblock along the Nakuru-Nairobi highway today.
Matatu operators, Limuru business community and members of public blocked the road to protest a roadblock erected at Rironi which had a fortnight ago been moved further to Lari.
Matiang'i, who was travelling to Nyandurua, found a massive snarl-up from Rironi to Kamandura area prompting him to address the gathering.
"Thank you all for making your voices heard, we shall move to see what we shall do for you and before the close of business tomorrow you will see our action. We don't want to see you suffer," Matiangi said amid cheers.
Read More
The more than 300 demonstrators marched to the roadblock demanding its removal.
Peter Kiongo a secretary to one of the most affected Matatu Sacco presented a petition to the officers manning the roadblock.
In the petition seen by Standard Digital, the community said while it fully supported the government move to curb the spread of Covid-19, they said the erection of eight roadblocks within one sub-county was tantamount to economic sabotage and ill will.
The road blocks are at Rusigeti, Mutarakwa, Kwa Mathoore, Cianda, Kentimere, Redhill, Ngecha, Rironi and Nazareth.
The petition stated that the Rironi roadblock had resulted in the whole sub-county being placed under an un-gazetted lockdown which has caused adversely affected businesses and occasioned job losses.
They demanded that the roadblock be moved to ease movement to and from Nairobi and matatus plying Limuru Nairobi route.
The Rironi roadblock that was re-erected on June 12 at around 6 pm has particularly angered the residents.
Robert Githire, one of the organisers of the demonstration claimed the roadblock has become an extortion stop where matatus, cars and trucks cough Sh100 to Sh500 to be allowed through.
Peter Muiruri, another resident, said that Limuru is within Nairobi metropolis and wondered why the town has been cut off.
"Isinya is like 60 kilometres from Nairobi, Thika is also far, Limuru is barely 35 kilometres from Nairobi this is very unfair by all means," lamented Peter Muiruri.
Margaret Njeri, a resident of Rironi, said that from Rironi or Limuru even getting to hospitals has become a tall order.
"We can't access Kiambu hospital, nor Nazareth. Tigoni is closed and moving to Kikuyu is curtailed again, we have been unfairly targeted by the police," Njeri lamented.
Njeri also took issues with the fact that matatus heading to Nairobi were picking passengers a stone throw away from the roadblock.
The demonstrators took police to task when they asked how people pass there after being dropped at Lari and ferried by Bodaboda riders past them to continue with their journey to either Nairobi or Western.