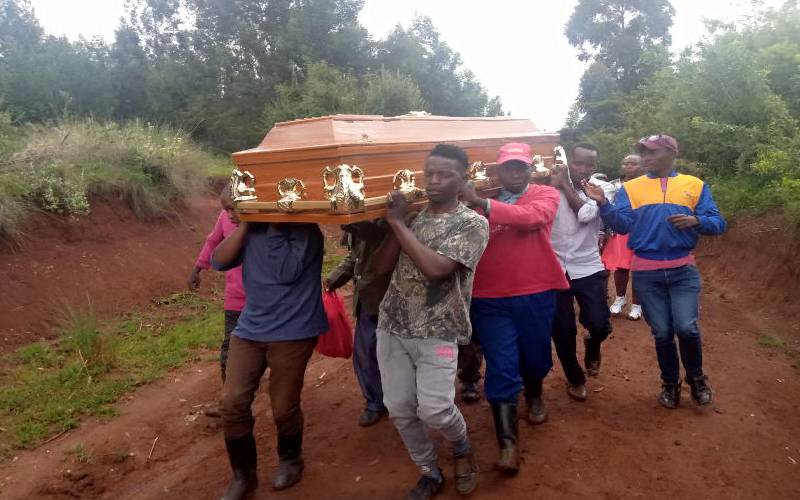 Residents of Chamuka village in Nyandarua County were on Monday left in shock after a 68-year-old man was buried under what they termed 'bizarre' circumstances. Elijah Kogi, who died on December 10 after a short illness, was buried without the usual rites being followed; there were no prayers, no reading of a eulogy and there was no elaborate funeral service. The burial took only 20 minutes. According to some of his relatives who were interviewed, the land on which Kogi was being interred is at the centre of an ownership dispute between family members, which is why the ceremony was conducted hurriedly.
SEE ALSO: Give the dead, poor or rich, dignified sendoff
Laban Mwangi, Kogi's younger brother, said a relative went to court seeking orders to stop the burial on the 24-acre piece of land. Mr Mwangi said the land was owned by their late father and the relative was only holding it in trust for the rest of the family.
Mother's death
He added that the relative now claims Kogi left him the land as an inheritance. "He became angry when he heard that we were planning to bury my brother on that land. He is claiming full ownership of it," said Mwangi.
SEE ALSO: County to set up industrial park on vast cemetery land
He also claimed that when their mother died in 1999, the same relative blocked them from burying her on that land until the police intervened. Mwangi stressed that the family had trouble digging the grave on Sunday evening following protests from the relative and had to do it by force. Determined to have Kogi laid to rest, Mwangi and Kogi's widow Hannah Njeri, were escorted by residents to the Rift Valley Provincial General Hospital mortuary where they collected the body. Poor roads were another hurdle when it came to ferrying Kogi's body to the burial site. Neighbours were forced to remove the body from the hearse and carry it for nearly four kilometres to the site. Along the way, a group of men who had allegedly been paid to stop the burial party from reaching its destination threatened to harass those trying to access the disputed land. Those in attendance later said the presence of news crews toned down the intended confrontation.
SEE ALSO: Nyandarua County closed indefinitely after Covid-19 case confirmed
Upon arrival at the burial site, local youth simply lowered the casket into the grave. No songs were sang, no prayers made. A majority of residents kept away from the ceremony. Only close family members were allowed to toss a handful of soil into the grave, before a few men who were being paid for their labour joined in with spades to fill it with soil, completing the task in about 20 minutes.
Health complications
Kogi's wife said the pressure of handling the dispute, especially after it moved to court, caused her husband to develop health complications, which eventually led to his death. Kogi's uncle Eliud Kimani acknowledged there were wrangles over the land and called for an amicable solution between the parties involved. "We have tried mediation but one of the individuals who is feeling aggrieved has taken a hard stance," he said. "He will accept nothing short of full ownership of the land. If they all agree to listen to each other, we can resolve this issue in a day."