Music, dance as Gikuyu benga icon given a colourful send-off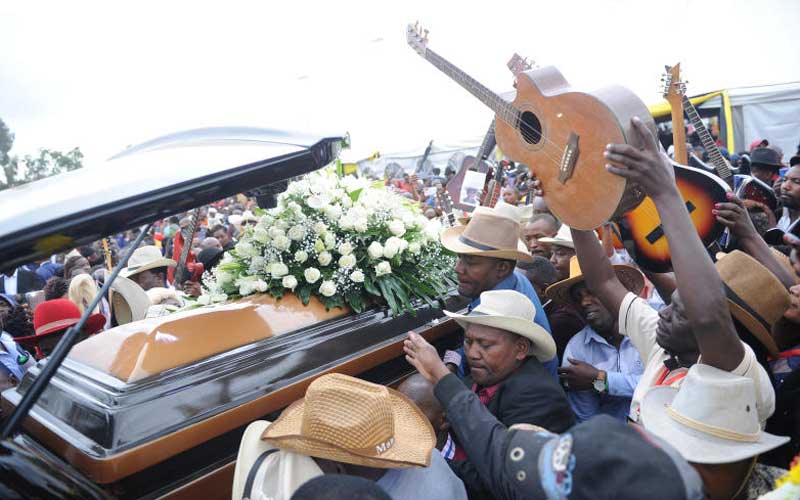 It was a colourful send-off for departed Kikuyu Benga maestro John De'Mathew, who was buried at Mukurwe village in Gatanga, Murang'a County, yesterday.
The unity of purpose displayed by the two widows overshadowed everything else at the send-off which was also a musical fest of sorts.
The older widow, Sarafina Wairimu, earned a standing ovation and presidential commendation after giving a seven-minute tribute that underlined the harmony of their polygamous union with the fallen star.
"We are strong and have an unbreakable bond, we urge no one to trouble themselves looking for a vacuum to exploit," said Ms Wairimu.
She said the bond between their children was even stronger.
"We even shared tips on where his favourite clothes were... it is the respect we had as co-wives," said Wairimu.
She promised to fill his shoes and to stand by her co-wife who only read her written tribute.
His children
There were also tributes from some of his seven children, born by other than the two wives.
His second born daughter, Evelyn Wanjiku, spoke of the strong bond De'Mathew tried to create in his diverse family, saying a shared goat was a regular meal where the father preached unity.
"He had called me a day before his death and asked me to ensure all the children were in one place during the national census," she said.
Murang'a Woman Rep Sabina Chege accused the media of hatching a scandal.
"I had absolutely no private relationship with John but I'm sure there are those who find joy in dragging my name into this family. Have you seen any of my children among those that John left behind?" asked the Woman Rep.
She said her musical video for the song Njata Yakwa where she acted as the sweetheart of the Benga musician was a pacesetter in Gikuyu music circles.
President Uhuru Kenyatta and his Deputy President William Ruto were among the thousands at the funeral service at Gathambia Primary School in Gatanga, Murang'a County.
The President paid glowing tribute to the musician's widows for showing unity.
"It was rare for a co-wife to stand and defend the other partner so there's a great lesson here," said Kenyatta.
Former Kiambu Governor William Kabogo also paid tribute to the widows, saying they had failed to give fodder to naysayers who had expected a bloodbath.
It was a music fest during the send-off, with performances by Gikuyu secular music icons including DK wa Maria, JB Maina, John Njagi, Simon Kihara, Timona Mburu, Gachathi wa Thuo, Jimmy wa Yunny, CDM Kiratu, Lady Wanja and Albert Gacheru. There were also performances by Gikuyu gospel artistes.
African Independent Pentecostal Church of Africa (AIPCA) Archbishop Julius Njoroge explained the political and social problems facing the nation as reality of a dynamic society.
Basing his sermon on the parable of the 10 Virgins, the archbishop cited the fact that there were five foolish and five wise virgins as a demonstration that any family, society, nation or group will have enough of both.
"Let those problems not trouble you unnecessarily, its the reality of God's nation," said Njoroge who is himself facing factional infighting in AIPCA. Other than the offer for assistance to the family of the late musician, the President also promised a Sh10 million recording studio at Gatang'a which is the headquarters of Gikuyu Benga.
The Talented Artistes and Composers (Tamco) Sacco, which De'Mathew chaired, was also promised fundraising assistance by Ruto.
The musicians' request for the tarmacking of the Mukarara-Mukurwe section and renaming as De'Mathew Road won the President's approval.
A mugithi festival in his honour is set for next month in Nairobi.
Reacting to a distress call by artistes over low loyalties, Uhuru said the Directorate of Criminal Investigations (DCI) and Ethics and anti Corruption Commission (EACC) had been ordered to probe happenings at the Music Copyright Society of Kenya (MCSK) and a report would be made public soon.
He described as curious the fact that MCSK had collected more than Sh200 million in royalties but used 60 per cent on administrative costs.
Uhuru also announced that the Kenya Copyright Board had been moved from the Attorney General's office to the Ministry of ICT which had the tools to calculate usage of artiste's work.