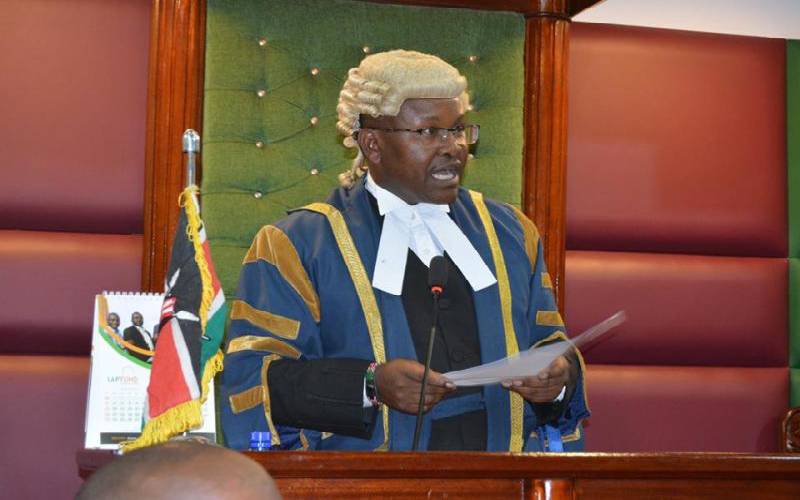 Ward reps have started studying the 2019/2020 budget estimates ahead of debate and approval by the House.
Heads of various county ministries started appearing before the county assembly yesterday to respond to questions from ward reps.
The total budget estimates amount to Sh6.5 billion.
Among the first issues raised by the ward reps was the ability of the county to raise Sh600 million locally to fund it projects.
Budget and Appropriations Committee Chairman Kiiru Gachomba said measures must be put in place to ensure the projected amounts are raised in accordance with the Finance Act.
Read More
"In the past, we have not been able to raise the projected amounts. Things must now be done differently by the executive to raise the amount," he said.
Another issue raised was that in the 2017/2018 Financial Year, the county government was only able to absorb around Sh2.8 billion which is equivalent to 44 per cent, raising doubts it would be able to absorb more under the proposed budget.
Assembly Speaker
The County Assembly Speaker Wahome Ndegwa also raised questions over the ballooning wage bill, wondering why the county assembly has not been given a chance to study the payroll. He also wondered why early childhood education (ECD) teachers were not employed in spite of the county setting aside Sh40 million for the purpose.
There were also questions over the county's failure to clear pending bills despite being allocated Sh830 million in the supplementary budget.
Transport, Energy and Public Works executive, Ndung'u Wangenye, said his department has pending bills amounting to Sh400 million and so far Sh250 million has been paid.
He said verification of another Sh27 million bills is in progress and shall be cleared before June 20, 2019.
County Secretary Mwangi Kahiro and County Payroll Manager Gladys Kimandu defended the rising wage bill, saying it was as a result of annual increment of staff salaries, salaries review by the Salaries and Remuneration Commission and increments awarded to nurses after their strike.