Man who killed, buried brother seeks re-sentencing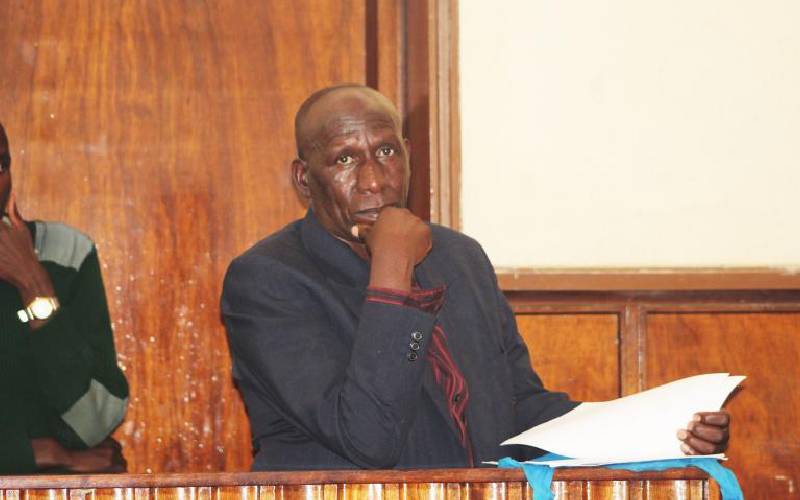 A man on death row for killing and burying his brother's body in his bedroom in 2006 is seeking re-sentencing.
John Kimani (right), now 65, was found guilty of first degree murder in June 2010.
He was charged on May 2007 with the murder of 20-year-old Peter Gitau, whose body was found buried in a shallow grave in Kimani's bedroom.
Gitau's body was found on February 22, 2007, after he went missing for eight months. Kimani was sentenced to death on August 1, 2010 by Justice Martha Koome.
On April 27, 2016, the Court of Appeal upheld the sentence.
However, Kimani went to the High Court seeking re-sentencing.
He admitted before Justice Joel Ngugi that he killed his brother over a land dispute.
Claiming that he had reformed and converted to Christianity, Kimani regretted the incident.
He told the court how a disagreement over a parcel they bought together exploded into a grudge.
"I was irritated on how he prevented me from selling my land, and anyway he had smoked bhang," he said.
The two used to live on the land at Ndoroto Village in Naivasha Sub County.
Kimani lived with his brother, while their mother, now deceased, relocated to his brother's house in Eldoret after the death of their father in 2003.
"When I hit my brother, he screamed out loud: "You have killed me" then he died. I was confused on what to do and I feared to inform my peers who were at the farm," he said.
"I took a shovel then dug a grave inside the house."
According to testimony issued in court on May 2006 by his sister Ester Wanjiku, she became curious after finding out Gitau was missing.
After killing his brother, Kimani sold the land.
When his mother Mary Njeri confronted him on the sale, he threatened her with a machete, leading to his arrest on August 2006.
While in custody, the family made a public announcement on a vernacular radio station, seeking help to find Gitau, but the accused would tell them that he had visited him in police station on January 2007.
On February 2007, after a long search, the mother requested the police to allow her to break into her son's house to get some of her belongings, only to find a grave dug under the bed inside the house. There lay Gitau's body. "The devil made me do what I did to my brother. I regret, I'm now saved. My brother and sister have forgiven me. My children need me," he said yesterday.
The ruling will be on September 19.