Locals stare at dry rivers as power generation dips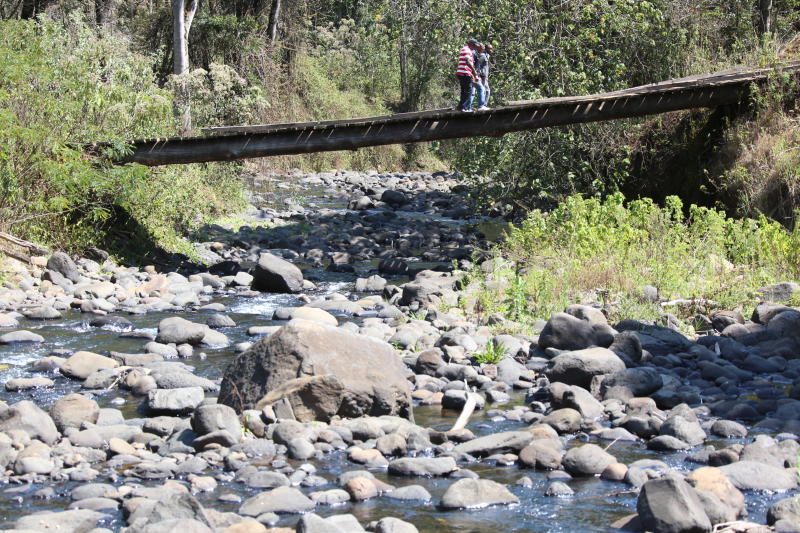 A gang of boys happily plunge into the diminished pool at Chania falls. They have no idea they are in the middle of a national crisis.
Their favourite Chania falls is no longer roaring. The geysers spraying the nearby rocks to create a spectacular rainbow on hot afternoons too have gone, replaced by protesting whimpers of a dying giant.
It does not have water and its bed is barely covered with black impregnable rocks. A couple of metres across the falls, two electrical engineers are just biting their nails as they count loses, hoping and praying that the water levels will rise.
The engineers explain that for the last four hours they have not been generating any electricity at the 68-year-old Sagana power station because they had to switch off the three engines to await water level to rise before they can start producing electricity again.
"We have been having a water scarcity problem for the last two months. We were harnessing water from Chania which originated from Aberdare and Sagana from Mt Kenya. This is the second month we are going through this," says Wilson Bett, an engineer.
The situation is no better at another Kengen power station at Wanjii in Murang'a County. Here, Washington Wanyang, explains the machines have been working at minimum capacity for two months now.
Farm lands bare
"The water levels are worryingly low. This has been going on since February. The prolonged drought is hurting our operations," he added.
During a tour of the area this week, we found the parched farm lands bare as farmers desperately prayed for rains. The scenario across the country is grim because according to the Ministry of Water and Irrigation, at least 23 counties are staring at a catastrophe unless the heavens yield and water in rivers is replenished.
The situation is dire in most parts of the country where farmers had already planted their crops in readiness for the long rains which appear to have failed to materialise since the onset of the planting season which normally starts on March 15 every year.
This year, the farmers will have to plant again because the first seeds which in some parts had sprouted but have since dried up.
"I do not know what I will do. I used all the money I had to buy maize seeds. The crops have shriveled and I do not even have enough food for my children. Even if it rains now, what can I do?" wonders a farmer, Mary Wairimu.
Water experts are warning that unless something is urgently done about the water situation, the country will face a major crisis in 15 years as it will not have water for domestic use as well as food.
The current water crisis is not confined to Mt Kenya region. During this year's World Water day, Water and Irrigation Cabinet Secretary, Simon Chelugui explained.
"Effects of climate change, especially the emergence of severe cycles of droughts and floods and encroaching desertification are increasingly impacting and critically reducing the country's renewable freshwater resources."
According to the CS, Kenya's annual water per capita is less than 500 cubic meters, making the country a severe water stress nation according to the UN global scale on water security.
The government is convinced that the solution to Kenya's cyclic water problems lies in constructing dams.
The Ministry of Water and Irrigation plans to construct mega dams and water pans across the country to mitigate against the water scarcity.
"We put it in the manifesto (Jubilee) to construct 57 mega dams, 400 small dams and 125,000 small holder water pans. That was in our manifesto," Deputy President, William Ruto explained in a TV interview this week.
Earlier, Mr Chelugui noted that the government plans to construct 57 dams to increase Kenya's overall national water coverage from 60 to 80 per cent by 2020 and 100 per cent by 2022.
There are other water and sanitation projects in 28 towns across, which the government will connect 2.1 million people to clean water and another 1.3 to sewer systems.
Controversy
But even as the government pegs its hopes on dams, their construction has been dogged by controversy following reports that the taxpayer could lose Sh21 billion in some projects.
According to Water Services Regulatory Board's annual projections, the water sector requires an annual budget of Sh100 billion to attain its development targets.
However, the available annual budget is Sh40 billion and most of this has been sourced from development partners.
Studies show the country has been losing more than 50 per cent of water to leaks and illegal connections.