Agony of families that lost their property to landslides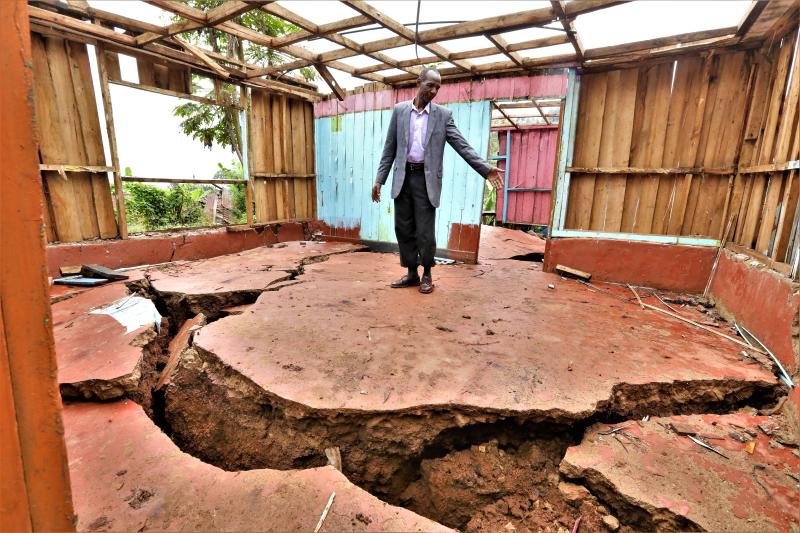 John Kihia had hoped to live comfortably after retirement.
The former salesman moved back to his rural home in Kiangotho, Kangema, in Murang'a and built his retirement house.
However, Kihia's dream has been shattered. He is now homeless after landslides destroyed his house.
The 57-year-old has been forced to move back to his 95-year-old mother's house.
His three-bedroom semi-permanent house is now a pile of rubble. It has huge cracks on the floor and with pieces of timber and metal jutting dangerously.
House sank
Sections of Njihia's house sank by six feet and others by up to 14 feet.
A chicken coop that was previously on the same level as the house now precariously hangs six feet above ground. To access it, one has to use a ladder.
"We first saw a small crack on the floor and just ignored it. However, one night we heard a bang. I woke up just to discover my house had sunk," says Kihia.
Kihia had to sell his 350 chickens before moving to his mother's house.
"I initially moved in with a friend. However, I decided to go to my mother's house. My wife had already joined her," he says.
He adds: "This has taken me back but I am happy that I am safe. My stay in my mother's house is temporary, I will rebuild."
About 10 people lost their lives in landslides across Muranga County following the recent heavy rains.
At least 84 structures across the county have been declared unsafe for habitation.
However, there is light at the end of the tunnel for Njihia and other victims of the landslides following a Sh30 million project to resettle them.
Sharing rooms
On Tuesday, the county government and the Kenya Red Cross Society (KRCS) said the money would benefit 400 victims.
The announcement was made during a meeting between KRCS Secretary General Abbas Gullet, Murang'a Governor Mwangi wa Iria and MPs Peter Kimari (Mathioya) and Ruth Mwaniki (Kigumo).
They resolved that the victims should be helped build shelters.
"We felt there is an urgent need to help the families settle down as other logistics are being worked out," said Gullet.
Iria said they would provide shelter to save families agony of sharing rooms.
"Temporary shelters will be provided to identified families starting next week as the county government continues to provide them with food," said the governor.
This is not the first time landslides are affecting the residents. It is a ritual they go through each year, which often brings death and destruction.
Kihia's neighbour, Wanjiru Kiragu, relocated to Nairobi after her kitchen sank and her house cracked a week ago.
Most parts of the county are hilly with the most affected area being Kangema and Mathioya.
Kihia said a neighbour also lost his home while a family of four died.
Mr James Karembu, a geologist, says this year's landslides were worse than last year's.
"This year, the rainfall started early and percolated into the ground, creating an interface between the top soil and the hard soil. That is why there were so many landslides," Mr Karembu said yesterday.
He said the section that was adversely affected by the landslides was once part of Aberdare Forest.
However, some of those living landslides prone areas have refused to moved out.
Karembu, a geologist in charge of Central region, said he had to use armed police officers to move some families from an area that had been affected.
"Sometimes some of them sneak back, putting themselves in grave danger," he added.
Kiriko village in Kahuro has been listed among the landslide prone areas. The village has been experiencing landslides for the past 10 years.
Visible cracks
When you walk around the village, there are visible cracks but some of the residents have stayed put.
Officials said they had ignored warnings to move out of the area.
Kihia, however, said they did not receive any warning before their houses sank.
"We would have moved out had somebody warned us about what awaited us and saved our property," he said.
Besides Kihia, several other residents have deserted their homes. John Irungu, a neighbour, left after his timber house sank.
But Kenneth Gitau has refused to leave, despite the risks he is exposing himself to. Gitau is still living in his house that has cracks on the wall and floor.
Karembu said the region is suffering effects of waterlogged layers of soil.
"The ground is overburdened by the weight on the surface due to water lodged in the soil. These are not faults such as the ones seen in Suswa. Faults are caused by stress," Karembu said.
To fight drought, involve communities
According to the latest information from the Meteorological Department, rainfall will be poorly distributed in April, May and June, and this will have a serious impact on agriculture