Uhuru buys car for matatu driver who slipped past security officers to reach him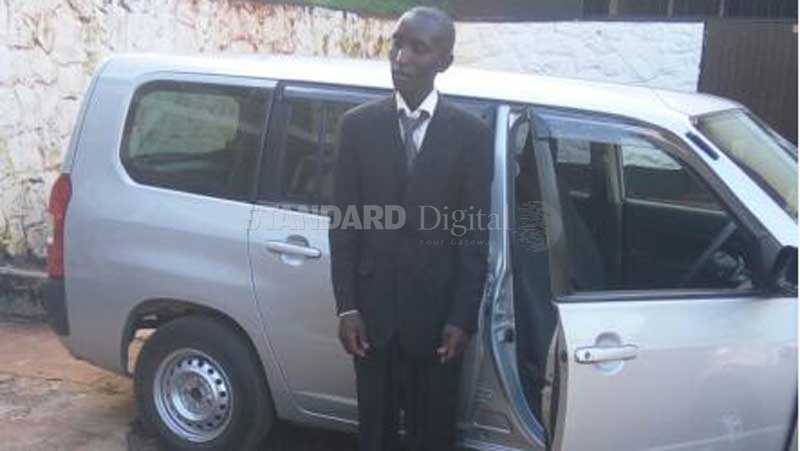 Call it a gamble but it has paid off.
When Elijah Muraguri breached protocol and security cordon to get the ear of President Uhuru Kenyatta little did he know that his bravado will pay off.
The act can simply be regarded as dare devil but for the 29 year old matatu driver, it was either he seize the moment or regrets would forever haunt him.
And the audacious act earned him five days in police cells as the law enforcers wondered what to do with him having breached peace during the presidential function.
What started off as a dream and a daring act has been rewarded with the President fulfilling what he whispered in the young man's ear.
And by just delivering a hand written note to the President during a public function in Murang'a, his lifetime dream of being a motor vehicle owner has been realised.
Muraguri is now a proud owner of a brand new Toyota Probox delivered to him today by officials from the office of the President.
His brief incarceration is now fully forgotten with the ripe fruits already sown.
Although he would not encourage other mortals to dare try the antic, the man thinks that by mustering the courage to seek audience with the president has borne fruits and he will truly cherish that rare occasion.
It was all smiles for the resident of Giakanja in Nyeri county as he received the vehicle, which he intends to use as a taxi for income generating purposes.
He remembers with a tinge of amazement how the events unfolded during the fateful day last month.
On April 26, Muraguri managed to beat the presidential security personnel in their own game accessing the highly guarded dais and handed over a note to President Kenyatta before he was whisked away by the heavily built and armed guards.
When the President joined others during a funeral service for the late Kenneth Matiba at General Ihura stadium, Muraguri walked from the back and reached where Kenyatta sat and handed over the letter seeking for financial assistance of Sh 880,000.
And the brief encounter with the President has yielded fruits.
On Monday while on his usual errands after he was called and directed to report at Murang'a county commissioner's office by state house operators after they confirmed he had notified President of his need of a vehicle.
Speaking to The Standard, Muraguri said he had been looking for opportunity to reach Kenyatta in the past two year in vain but Ihura became the best venue.
"After I learnt he will be at Ihura Stadium I wrote a letter and sought for divine intervention to enable me accomplish my mission. After the function came to an end I was locked in Murang'a police cells for five days," said the beneficiary of Kenyatta gesture.
To illustrate how determined he was to get the President's attention, Muraguri says he has never been to Murang'a and just asked his way around to reach the venue.
"It was my first time in Murang'a and I knew about the venue from the numerous radio announcements of the Matiba's burial ceremony," he recalled yesterday.
When the vehicle was finally delivered, it is when it dawned on him that his courageous move had paid dividend.
He was overwhelmed by the President's gesture and villagers joined in the celebrations in his rural village.
After 7 pm, he was escorted by State House operatives and administrators from Murang'a to Giakanja village where he was received by hundreds of residents after he hinted that Kenyatta had bought him a vehicle.
He recounted how last year in Kiandu area during Presidential campaigns he nearly came close to President but was restrained by security details.
"I will remain grateful to the Head of State for having come to my rescue by buying a vehicle that will help me venture into taxi business," said Muraguri adding that he was expecting to get money to start off a business.
The beneficiary was locked in cell and released Monday, April 30, awaiting to be charged with creating disturbance at Ihura stadium.
Murang'a County Commissioner Mr John Elungata said the man has finally received his vehicle following gesture by head of state.
"A lot of research was done to ascertain if Muraguri had approached the President at Ihura," said Elungata.
The intention to charge Muraguri with creating disturbance was dropped by Murang'a East DCIO Mr Japheth Maingi on Monday after he received the vehicle from state house officials in Murang'a town.