A peek into East Africa longest railway tunnel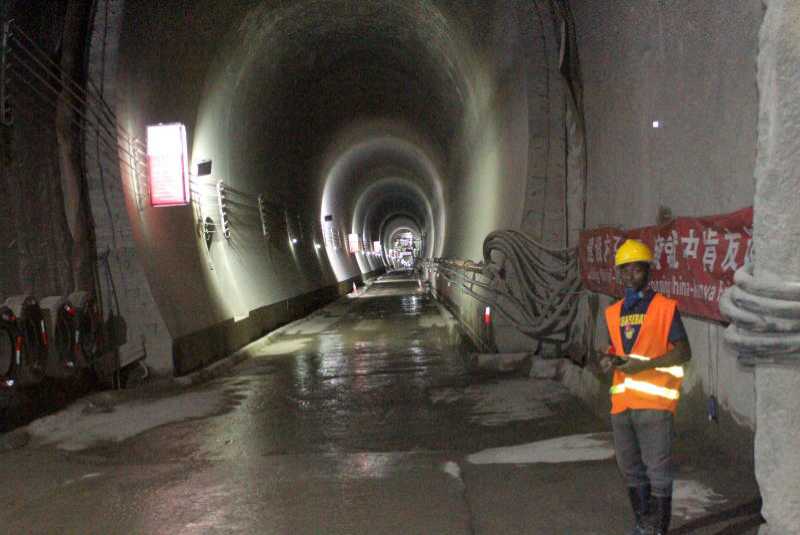 A Chinese company contracted to build Phase 2A of the Nairobi-Naivasha Standard Gauge Railway (SGR) has successfully drilled the longest railway tunnel in East Africa.
China Communications Construction Company Ltd (CCCC) has drilled a 4.5km tunnel in Ngong, Kajiado County, that has been designed as a single-track railway tunnel with a clearance height of 9 meres and a width of 7 metres.
According to the firm's engineers, they used the New Austrian Tunnelling Method (NATM) of drilling and blasting to build the tunnel.
This is the first time such a method has been used on such a large scale in Kenya, according to Steve Zhao, the CCCC Kenya SGR Project spokesman.
The tunnelling method is said to be economical and efficient, and has strong adaptability for different geological and groundwater conditions. It also controls surface collapse effectively and enhances the working environment during construction.
For the first time, local and international journalists were allowed inside the tunnel to take pictures.
Refuge holes
Speaking separately to The Standard during a tour of the tunnel that was commissioned yesterday, Mr Zhao said 146 refuge holes of different sizes have been built in the tunnel to allow maintenance workers to take cover as trains approach.
"There is one large refuge hole set up every 150 metres and one small refuge hole set up every 30 metres in the tunnel," Zhao explained.
A 533m-wide emergency rescue channel has also been built to allow for vehicle access in case of emergencies.
"We have reserved space for fans in the tunnel. Six jet fans can be installed to ensure air ventilation once the tunnel is operational."
Zhao said during excavation, the team was able to deal with the challenges of water leaks, uneven pressure and shallow-depth excavation, rocks, structural fault-lines and oil pipeline protection.
"We have addressed the technical difficulty in designing and constructing in the Great Rift Valley and achieved safe breakthrough of the tunnel. This lays the foundation for inauguration next year," he added.
It has taken about 600 workers 24 months to reach this stage of construction.
The company recently discovered a natural water resource with a capacity to supply more than 1,700 cubic metres of water per hour.
The Embulbul tunnel is the first of the three sections of the 7.14km tunnel. The other two sections located in Nachu, Kikuyu constituency, cover 1km and 1.64km respectively. The tunnel is on the 120km Nairobi-Naivasha route of the SGR and will pass through Nairobi, Kajiado, Kiambu, Nakuru and Narok counties.
Supporting infrastructure includes five new stations in Ongata Rongai, Ngong, Mai Mahiu, Suswa and Nachu.