Sugar regulator, police urged to address cane poaching in Busia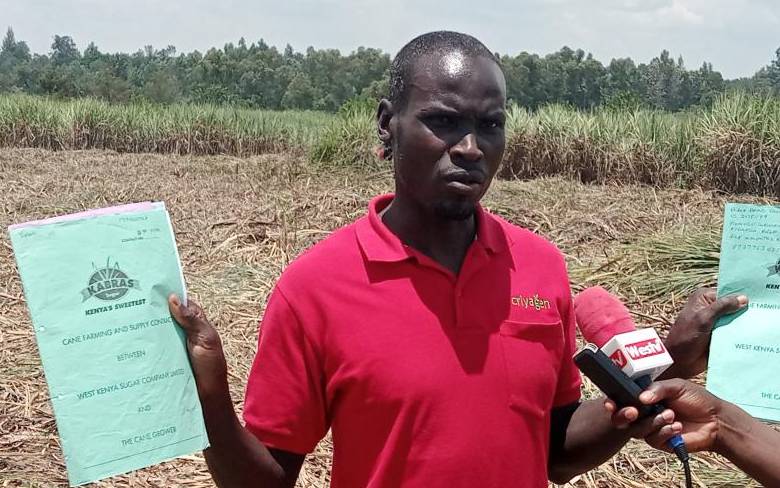 Kenya Sugar Board and law enforcement agencies in Busia County have been urged to intervene over cane poaching in the region.
The call comes hot on the heels of an incident where West Kenya's Olepito and Busia Sugar Industry clashed over raw material at Alomodoi in Teso South over the weekend.
The tractors of the two factories arrived at the same time to collect the cane that had been harvested.
Drama ensued when Olepito's head of agriculture Titus Ondigo arrived at the farm armed with contract agreement signed between farmers and the factory.
Mr Ondigo ordered one of the Busia Sugar Industry supervisors who was overseeing the loading of the cane to stop arguing that the cane belonged to their contracted farmers.
Busia Sugar officials left the field in huff but tractors that had already been loaded with the sugarcane remained behind.
Olepito is situated in Teso South while Busia Sugar is based in Busibwabo, Matayos Constituency. The two sugar mills are at least 10 kilometers apart.
It was not the first time the two factories were clashing over cane.
According to Mr Ondigo, there is need for the sugar directorate and Busia County Commissioner Joseph Kanyiri who is also the chairman of the County Security Committee to intervene on the issue of cane poaching.
"Kenya Sugar Board and County Commissioner should come in before the situation runs out of hand," said Mr Ondigo.
"We cannot have a situation where one of the players does cane development while the other one come to confuse the farmer and buy the cane we invested in heavily by providing fertilizer and seed canes," he maintained.
One of the owners of the cane Yerusa Okiru admitted that her husband Philip Okiru signed an agreement with West Kenya but later dropped cane farming.
Ms Yerusa then started planting cane as private farmer. "I have no any agreement with West Kenya so they should allow me to sell the cane to a factory of my choice," she said. Efforts to reach the management of Busia Sugar Industry (BSI) was futile.
BSI has been experiencing shortage of cane after Cabinet Secretary for Agriculture Peter Munya imposed a ban on cane importation from Uganda.
The factory relied on cane from abroad to cushion shortage of the raw material.
Earlier the Spokesperson of the factory Stephene Mulla said most of the cane they developed were destroyed by the excessive rainfall the region experienced last year.