CMA to police coffee auction, brokers as new rules kick in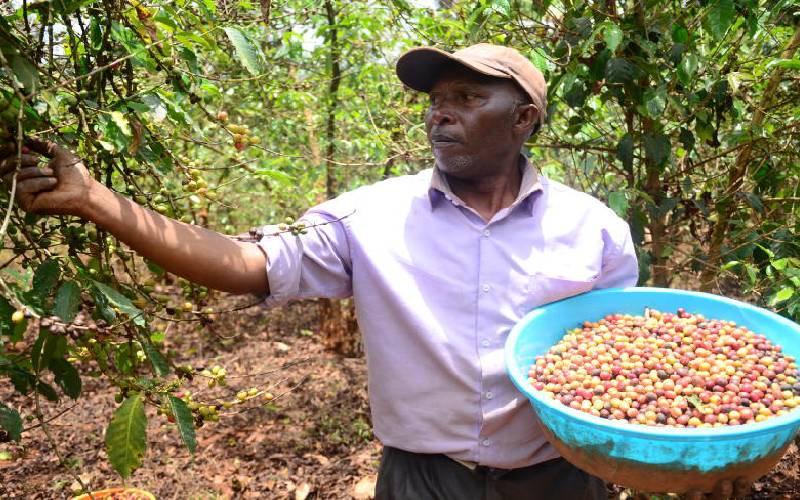 In a new push to revive the coffee sector, some of the players in the crop's value chain will now fall under the regulation of the Capital Markets Authority (CMA).
According to new regulations, the exchange that runs the auctions where Kenyan coffee is sold as well as brokers selling coffee on behalf of farmers will now have to be licensed by CMA.
The Crops (Coffee) (General) Regulations, 2019 published on July 1 also require coffee buyers to pay for the commodity within five days after a sale has been concluded.
The move has potential to bring an end to the rogue nature in which a segment of the industry operated as well as the woes afflicting coffee farmer, many of whom have little to show for their work despite the crop fetching the best prices globally.
The coffee exchange, which has been operating as the Nairobi Coffee Exchange (NCE), is now defined as a "company incorporated under the Companies Act and licensed by the CMA as an exchange for trading in clean coffee".
Over 90 per cent of coffee produced in the country is traded through the NCE-managed auction, with the balance being direct sales. NCE will also be regulated by the Agriculture and Food Authority.
The new regulations will also bring coffee brokers under the watchful eye of CMA but will also have to be licensed by the exchange.
The regulations also require the coffee buyers to pay farmers within five days of taking delivery of the commodity in what is expected to help ease some of the challenges afflicting them.
Coffee buyers and roasters trading at the exchange will be automatically liable for suspension from trading in case of default of payment of coffee proceeds through the direct settlement system.
The regulations also require all industry players to digitise their operations within the next year.
These include county governments, cooperatives and other service providers.
The digital systems, in addition to having capabilities to withstanding challenges such as hacking that come with automation, they will also give access to other players to facilitate fast handling of the commodity as well as prompt payment of farmers.
"The authority, county governments, every licence holder, certificate holder and service provider shall digitise and automate their operations for efficient service delivery and information dissemination," read the newly published regulations.
Among the qualities that the systems must have is access by multiple parties, protected against unauthorised entry or access and inbuilt mechanisms guarding against loss, destruction and tampering with data. The different players along the value chain will also be required to invest in system back-ups that would ensure that there is business continuity in case their computer systems are destroyed.