KQ moves to wrap up airport takeover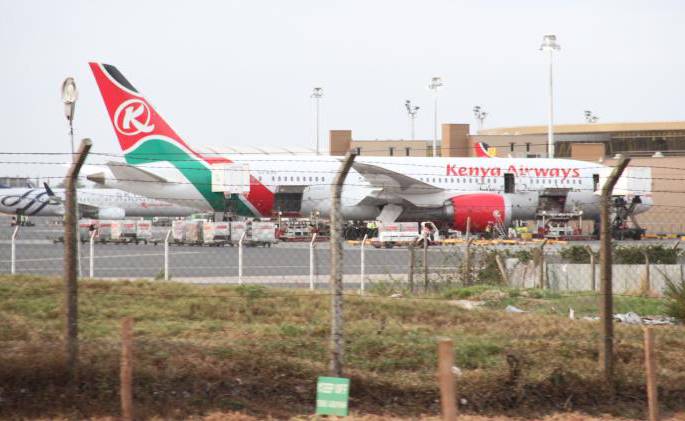 Kenya Airways has picked an American law firm to guide its controversial takeover bid of the Jomo Kenyatta International Airport.
Handing over the airport to the airline has been fronted as the only lifeline for the national carrier, which is struggling to remain in the skies amid stiff competition from rivals, including Ethiopian Airlines.
The latest move is an indication that the conclusion of the proposal, which has been bitterly contested by the Kenya Aviation Workers Union (Kawu) and Parliament, is inevitable.
Central to the conclusion of the deal is the valuation of the country's main airport, Jomo Kenyatta International Airport (JKIA), and what to do with hundreds of its workers, many of whom are jittery that the acquisition could cost them their jobs.
It is also expected that the consultants, Orrick, will make a case for a merger, considering that Kenya Airways (KQ) has been a major drain on public funds through perennial losses, partly attributable to mismanagement.
Orrick, working with other financial and legal consultants, is handling the transaction whose details are expected to be completed by the end of this month. But even before the finer details of the proposal are ironed out, legislators are demanding involvement, citing the huge public interest on the matter given the billions of taxpayer shillings invested in KQ.
The implications of the proposed takeover are huge considering that the airline is in part privately owned while the airport is wholly owned by the State through the Kenya Airports Authority (KAA).
The fees paid by airlines flying in and out of the airport, for instance, would go to the airline rather than to KAA - a parastatal. Airlines pay up to Sh200,000, depending on weight, per landing at the JKIA and another Sh15,000 parking a day, an indication of just how lucrative running the airport would be for KQ.
Among the other obvious outcomes of the deal is that the State would take near-full control of the airline, considering that JKIA would effectively be a Government asset run by KQ.
Foreign firms, including Dutch airline KLM, which has a stake in KQ, will also be part-owners of the airport after the deal. Sources said the consultants would present their report before end of the month.
"We will have a report ready within two weeks," sources indicated. National Assembly Transport Committee Chairman David Pkosing said the committee was in the dark about the transaction despite its massive implications, especially to the taxpayer.