Tristar Air pens agreement with Standard Group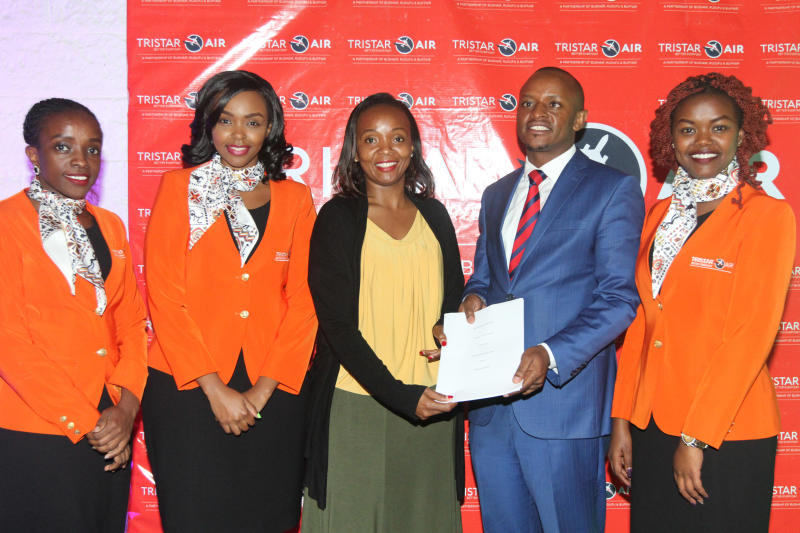 A new passenger airline has joined a growing number of budget airlines taking up the Kenyan skies as demand for low cost flights rises.
Tristar Air, a flight firm that has been created following a joint venture between three other airlines – Bush air, Rudufu and Buffair – that hold an equal stake in it, will only be concentrating on passenger flights.
Tristar Chief Executive Officer Daniel Murithi explained on Thursday during the company's launch that Bush air, Rudufu and Buffair, are firms that are predominantly involved in cargo business. The firms came together to create an entity that could solely tap into passenger flights.
"The three other cargo airlines came together to form a common entity because they resolved it would not be efficient for each to start its own passenger line. That would only have added to the already stiff competition in the market," said Mr Murithi.
The airline, which will be operating from Wilson Airport, will serve a number of routes beginning with the Nairobi-Mombasa-Lamu-Malindi route, Nairobi-Eldoret-Lodwar and Nairobi-Mandera-Elwak. A direct flight from Nairobi to Mombasa for example will cost Sh4,300.
Partnership
At the event, the airline inked an agreement with Standard Group Plc that will see one of Kenya's leading media houses promote its growth as it takes up on the Kenyan skies.
Standard Group Senior Channel Executive Christine Mucheke said of the partnership: "The partnership will be good for ordinary Kenyans who think air travel is expensive... Reaching your destination will become better through Tristar and the Standard Group."
Tristar joins a long line of local airlines such as Jambojet, Fly540, Safarilink, Air Kenya, Silverstone among others. Murithi downplayed the already crowded low cost flights scene saying there was much for everybody to benefit.
"Kenya is a young market that has not been tapped yet. There is so much for everyone here as the industry grows," said Murithi.