Corporates asked to help boost talent as Total awards start-uppers with Sh5m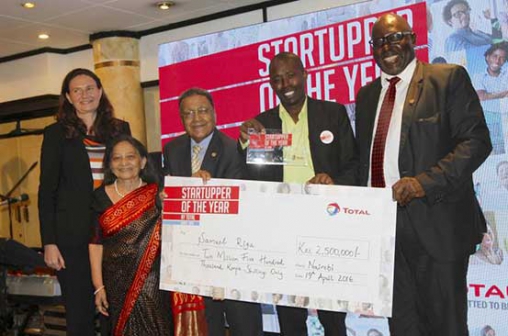 A lot of human resource is going to waste because companies are not willing to invest in new skills and expertise.
Industrialist Manu Chandaria said many employers and corporates would rather invest in ideas that are only going to benefit them.
"It is ironic that we then lament of huge unemployment rate yet we have the ability to change the situation," he said.
Mr Chandaria said since companies benefit from the market, they have a responsibility to change the economy by developing talents and investing in ideas.
"We have a highly skilled population that gets drowned in the informal sector, yet with a little push, they can be employers rather than be employees," he said.
Chandaria spoke during the award ceremony of the Total Startupper challenge held in Nairobi. The top three finalists were awarded Sh5 million to invest in their business ideas.
The overall winner, Samuel Wanderi of Safi Organics received Sh2.5 million while first runner-up Susan Kwamboka of JSIL Space Solutions got Sh1.5 million. Second runner-up Kevin Mureithi of Eco Blocks and Tiles won Sh1m.
Forty individuals were shortlisted in Kenya in a challenge that attracted more than 800 submissions across 32 countries in Africa. "This shows the huge potential Kenya and Africa have in terms of entrepreneurial abilities," said Total Managing Director Anne-Solange Renouard.
Safi Organics deals with production of soil conditioner derived from farm waste while JSIL optimises space in constrained environments.
Eco Blocks handles production of ecofriendly, affordable and durable building products from discarded post consumer waste materials such as glass waste, industrial leftover fly ash and quarry dust.