Airlines in Kenya warned against advertising ticket prices that exclude taxes, fees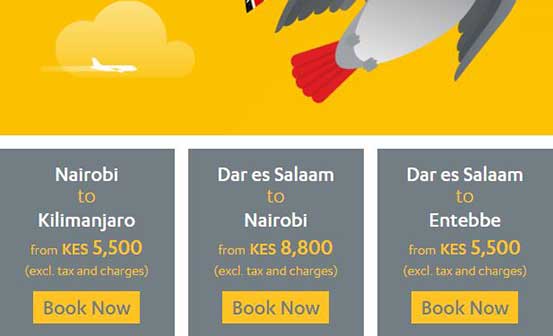 NAIROBI: Airlines have been told not to market ticket prices that exclude taxes, fees and all fees.
The Kenya Civil Aviation Authority (KCAA), in a cautionary notice that appeared in newspapers Thursday, noted that airlines, in disregard of the law, have continued to advertise incomplete prices in local print media.
The firms were reminded of their legal duty to accurately inform passengers of full ticket prices, including taxes, fees and charges.
"Any further advertising without adhering to the above provisions shall be dealt with according to existing laws," reads the notice, which was signed by KCAA Director General Gilbert Kibe.
The aviation regulator cited the Consumer Protection Act, which stipulates that businesses that knowingly lie about pricing shall be punished.
The legislation further notes that it is an unfair practice for a person to make a false, misleading or deceptive representation, which includes a representation that a specific price advantage exists if it does not.
The notice comes at a time when Fastjet's entry into Kenya has sparked a price war on the Nairobi to Dar-es-Saalam route. The London Stock Exchange-listed airline, which operates a low-cost model, had priced its ticket from Nairobi to the Tanzanian city at Sh13,200, forcing troubled Kenya Airways to lower its prices.
The national carrier, in an advertisement carried in the dailies on the day Fastjet got the licence to operate flights in Kenya, said it had cut its ticket prices on the route by about 30 per cent.
But now, the regulator says the airlines have been trying to hoodwink consumers by failing to reveal all applicable charges.