Worst year as 18 Nairobi Securities Exchange listed companies issue profit warnings
NEWS
By Lee Mwiti | Jan 30th 2016 | 3 min read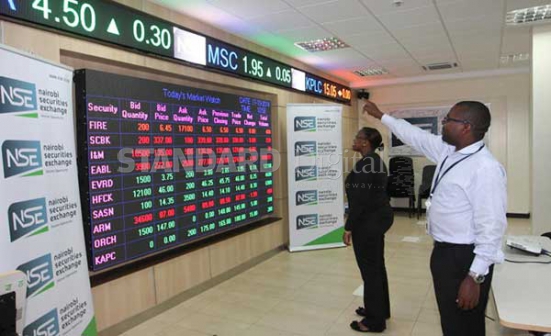 Liberty Kenya Holdings has issued a profit warning, joining a dozen other listed companies.
Yesterday, the firm, owned by South Africa's Liberty Holdings, announced that its earnings for the year ended December 31, 2015 will be at least 25 per cent lower than the same period in 2014.
This means the company will post an after tax profit of Sh862 million or lower, compared to Sh1.15 billion it posted in the previous year.
The firm with interests in insurance and investments, said the worth of its shares and bonds fell sharply to result in millions of losses on its asset base. "There was general decline in the values of market-to-market financial instruments (listed equities and fixed income securities) in the market in which the group operates. As a result there was a decline in asset values which negatively impacted the investment income when compared to the previous year," Liberty Kenya said. Liberty Kenya Holdings becomes the 18th company to declare profit warning.
On the day the insurance firm issued a profit warning, its parent company Liberty Holdings Ltd (Liberty) entered the general insurance market in Uganda by acquiring 51 per cent stake in East African Underwriters Ltd (EAUL), a local Ugandan Underwriter owned by the Madhvani Group.
Liberty has a stake in the Kenyan insurance market through Liberty Kenya Holdings, where it trades under the Heritage Insurance brand. Heritage Insurance Kenya own 60 per cent of Heritage Insurance Tanzania. In Tanzania, Heritage Insurance is the second largest general insurer with a market share of 11 per cent. Liberty, a unit of Africa's second-biggest bank by value Standard Bank, also said it has been granted licence to operate in Lesotho.
Last year was a difficult year for most NSE listed companies. Early this month, Property developer Home Afrika Ltd spurred the untamed horse that is profit warnings, by announcing that its 2015 profit would be at least 25 per cent lower than the previous year, hurt by an increase in financing costs for its ongoing infrastructure projects.
Pan Africa Insurance Holdings also revealed that it will close its books with a more than a quarter slump in its profits after tax for the financial year ending December 31, 2015. That was the second year the insurer was issuing profit warning after making a similar announcement in 2014.
According to Pan Africa Board, the dip in profits was attributed to adverse stock market conditions it experienced. "Should the equity market performance not improve towards the end of the financial year, it is expected to result in unrealised market-to-market losses on quoted equities in our Life (insurance) business," the company said then, adding that it expects its investment company, PA Securities, to suffer unrealised losses due to a fall in market prices of unquoted equity investment in a local bank.
UAP Insurance - which trades on the over-the-counter market at the NSE also issued a similar warning last year. UAP, one of the biggest insurers, has in the last year been acquired by United Kingdom's Old Mutual. UAP reported that projected net profits will be lower by more than a quarter, basing its forecasts on the unaudited results for November.
Britam is another financial services firm that announced a profit warning. UAP, Britam and most insurance companies are specifically exposed to movements in the stock markets because they have huge investments in the NSE.
Also gas producer BOC projected that its profitability would fall by at least 25 per cent in the current financial year. Other listed companies that issued profit warnings were Mumias Sugar, Uchumi Supermarkets, Sameer Africa, Standard Group, East African Cables and ARM Cement. Also Car & General, Standard Chartered, Express Kenya, TPS Eastern Africa, Crown Paints and Atlas Development joined the bandwagon.
In 2014, eleven listed companies issued profit warnings up from eight in 2013 an indication of tough economic times.