If not to evade traffic, use Nairobi Expressway for its sheer beauty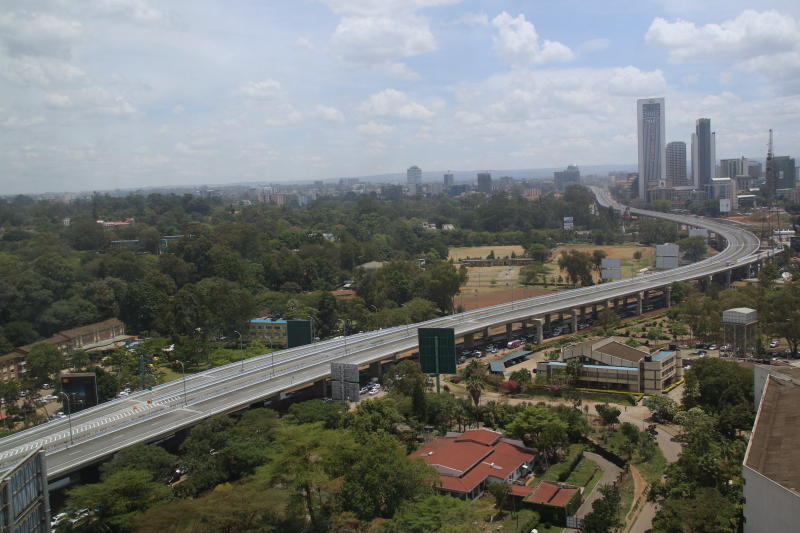 There is a certain excitement in chaos. The kind that reminds you that the earth is still rotating – not necessarily around you – but on its axis. Even if you are one of those who believe the earth is flat.
Such is the chaos synonymous with Nairobi traffic. It is chaotic. Excitingly chaotic. Driving in Nairobi teaches you how to be a lawyer and even a judge without any background in law school if you happen to brush another motorist's bumper.
The two of you even agree on restitution without necessarily involving a traffic police and drive to your destination in peace.
It is in Nairobi traffic where you will fight with your partner in the car while fighting with another motorist on why they are going "too slow". Your partner will even fight with you because you are fighting with another motorist for simply allowing them to "cut" in front of you only for the traffic lights to turn red.
But as Stephen Hayes, an American author and martial artist said, "chaos at the bottom means order at the top", the city now has an Expressway built above existing roads which will save you from all these troubles with other motorists.
The 27.1 kilometre overpass road built at a cost of Sh88 billion through a public private partnership with a Chinese firm is expected to save Kenyans or travellers time wading through traffic upon arrival at Jomo Kenyatta International Airport (JKIA).
It will take one about 15 minutes from the airport to an office in Westlands.
A drive through the road on Monday evening accompanying the National Assembly Transport Committee headed by David Pkosing (MP Pokot South) took us about 22 minutes from James Gichuru where the road starts to Mlolongo where it fades.
This is at varying speeds that did not exceed 80 km/h.
It takes three minutes to exit Museum Hill from James Gichuru and six minutes if you are exiting at Haile Selassie.
It will take you 10 minutes to get to Southern Bypass exit from James Gichuru, and 16 minutes to JKIA. However, time taken may vary considerably as the road has many exits and entry points.
During the whole journey, Waiyaki Way all through to Mombasa Road was littered with traffic. Incessant hooting, revving of engines by impatient motorists and traffic police at the roundabouts who were not sure of how to direct the vehicles was the order of the day.
Motorists were not obeying the traffic lights either. The rule of the jungle prevailed - the bigger the car, the easier it was for you to wade through traffic by basically intimidating other motorists.
In fact, it took us 30 minutes from Parliament buildings to James Gichuru where the tour began.
Yet it took us five minutes from James Gichuru to pass over the Parliament buildings. Traffic on these lower decker roads have been made worse by the construction of the Nairobi Expressway. Apart from spillage directed below, the lower roads have also been dismantled with no specific lanes and potholes due to constant drilling.
"The mwananchi road will be done immediately after this budget," assured the Pkosing who also called on Kenyans to propose where pedestrian footbridges will be erected to ease road crossing. These proposals will then be forwarded to the Executive.
Pkosing said Kenya loses Sh50 million daily due to time wasted on traffic.
"You fly from South Africa about four hours before landing at JKIA. If your office is in Westlands, you will use the same number of hours to get through traffic. Now Kenyans will use only 15 minutes," said Pkosing.
But if the time spent on a journey from Westlands to JKIA is not convincing enough, then use the Expressway for the beauty it offers.
Somehow a bird's eye view makes the city appear more colourful with ample aesthetics from buildings and trees that would rather seem horrid from an ant's view. The smoothness of the well carpeted road can make a motorist driving a jalopy feel like they own the latest model of an electric car.
The view Nairobi Expressway offers is therapeutic. It comes with ultimate peace of mind. Whilst there was traffic on the roads below, one cannot hear any hooting or engines revving.
This view includes that of Parliament building that members of the house raised concerns about since it is so close.
However, Pkosing allayed those fears: "This an express road. This is not a 'stop road' - the cameras fitted on the road and barrier raised on the side of Parliament offer good security to the MPs."
Grace Mwikali from the monitoring department of Nairobi Expressway said there are 54 HD traffic cameras and 126 toll cameras along the stretch. These cameras relay images to a screen with 32 slides in the monitoring room giving the staff all angles of the road.
It is from here that the staff can detect congestion, spillage, and pedestrian crossing.
There has been an uproar on the proposed fines of up to Sh8 million set to be imposed on accidents that may occur on the road.
"There is no fine yet prescribed anywhere," said Pkosing. "It has to come to Parliament in terms of law and this committee will process and pass it."
The road can be used by either paying cash or using an Electronic Toll Collection (ETC) or Manual Toll Collection (MTC).
The ETC uses a gadget that is fitted in your car and is immediately detected at the toll gate which saves you time. The MTC however works similar to a paying parking lot.