Nissan marks 60 years in Kenya with eyes on expansion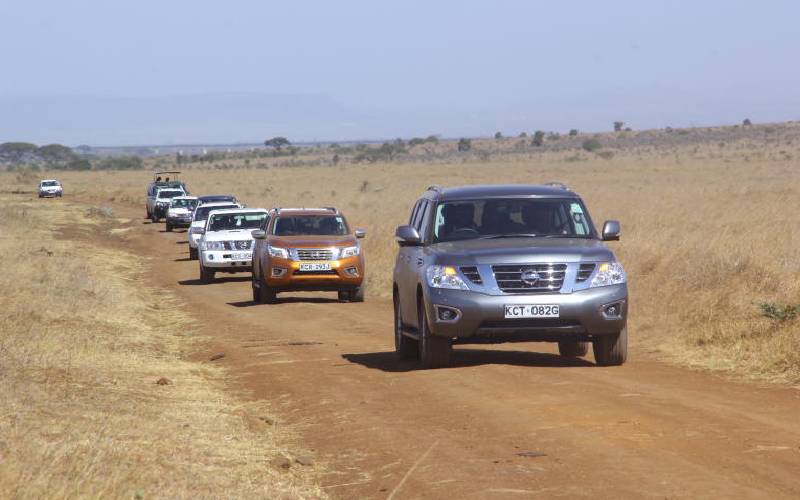 Automaker Nissan is targeting to open more outlets in the country as it uses Nairobi as its launchpad for expansion.
The company which is celebrating 60 years of serving Kenyans and the larger East Africa also launched new Nissan vehicle models which it bets on to grow its market share across the region.
Nissan Group of Africa's head of operations and sales Jim Dando who graced the event told the government, business and media leaders that the Japanese automotive manufacturer is proud of this unique legacy.
He announced a raft of new initiatives, and introduced the Nissan Navara that is built specifically for Africa.
The new Navara joins the pick-up range that consists of the NP300 Hardbody in single and double cab, the Patrol Pick-up and the Nissan NP200. It is available as a four-wheel drive variant with the choice of manual or automatic transmission.
Automotive giant
Speaking at the inaugural Nissan Experience held at the Nairobi National Park recently, Dando said the automotive giant was expanding its presence in Kenya. "Nissan Kenya is our official partner in the country, with full sales, spares and service dealerships in Nairobi, Mombasa, and Nakuru with one under construction in Kisumu. We also have a further nine sub-contracted dealerships."
Mr Dando said the company remained committed to working with the Kenya Government to create a legislative environment conducive to assembling vehicles in the country once more.
Nissan will be also co-hosting the inaugural Kenya Automotive Summit in May.
Dando described the upcoming forum as "a critical event on the road to understanding and unpacking the challenges of creating sustainable and internationally competitive indigenous African automotive industries".
The Africa's head of operations and sales said the company had opted to site its regional East African office in Nairobi with a locally based regional general manager will ensure real-time, involved and on the ground management is proof of Nissan's commitment in East Africa.
"This is a country where the minibus taxis are still known as Nissan, whether they are or aren't. It just illustrates a single aspect of our incredible legacy here which we are all immensely proud of and very keen to build on for everyone's benefit."