Safaricom stirs up market with its Masoko e-commerce platform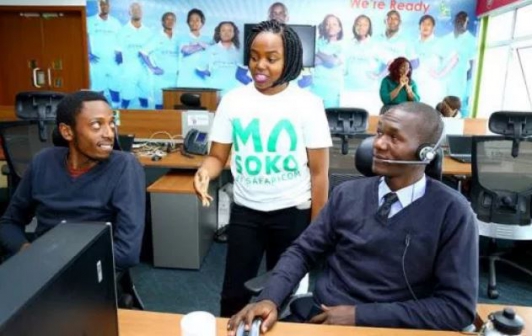 The unveiling of Safaricom's e-commerce platform Masoko will kick off intense competition in the nascent online business.
This is not only beneficial to the country's online trading whose growth has not kept up with internet connectivity and formal retailing but also to online shoppers who stand to win big from price wars.
Although the formal retail penetration in Kenya is estimated at 30 per cent while internet connectivity at 60 per cent, the fraction of Kenyans buying products online has stuck at 0.5 per cent.
Masoko, a Swahili word for markets, was expected to go live Monday.
Special offers
It will have three days to take advantage of the buzz around Black Friday, a day on which retailers all over the world make many special offers.
Just as new mobile money players might find it hard to shake up M-Pesa's stranglehold on the financial sub-sector, Masoko will have to work hard to outcompete established e-commerce brands.
Prominent e-commerce players in the country include Africa Internet Group's Jumia, Kilimall International and OLX, a unit of Johannesburg-listed Naspers Ltd. Jumia, arguably Africa's biggest online retailer, has already created enough publicity about Black Friday, in a move aimed at netting more sellers and buyers online.
The company which started in Nigeria has broken with the Black Friday tradition of holding the event in a day, such as November 24, the official Black Friday for 2017.
Instead, it has turned the event into a month-long affair as the e-commerce firm moves to convert more offline shoppers into online shopaholics.
Jumia Managing Director Sam Chappatte, played down the entry of Masoko, noting that their competition was not with online but offline stores as many Kenyans still do not trust buying stuff from the Internet.
If anything, he said, the entry of Masoko, backed by Safaricom's financial muscle, will help get more people online.
When more people get online, reckons Chappatte, it is not just Masoko that will benefit, but the whole spectrum of online marketplace as shoppers traverse from one online store to the other. "We welcome Masoko because as an industry, our main battle right now is to educate the market. We want to explain to people why they should buy online," said Chappatte.
Benefits of selling and buying online include saving time and money. Shopping online also gives shoppers more choice and with a little effort, they can get better quality products.
"That is the message we want to get out there. If Masoko jumps on board and they use Safaricom's very powerful communication channels to educate the market, it is great for us," explained Chappatte.
"Because every single person they convince into considering into buying online, every single shilling that they (Safaricom) will increase the market for us," explained Chappatte.
He noted that when such people that get convinced by Safaricom to get online do not necessarily get to stick to Masoko, they will also start looking at the available options.
Indeed, Masoko will realise that their main competitors are not other e-commerce players but malls, supermarkets, hypermarkets, dukas, groceries, and mama mboga stalls which still command the trust of most shoppers.
"Our competition is formal offline, supermarkets and malls," said Chappatte.
And this year, the whole retail players, including Carrefour, Two Rivers Mall, and Deacons are jumping into the hype of Black Friday. However, it looks like Masoko is taking a different approach to online trading.
Safaricom believes there are more and more people selling and buying online but who are not captured as online traders.
Offline selling
This is because, according to Masoko, these online businesses are being done on social media platforms such as Facebook, Instagram and Twitter.
"If you look at Facebook and Instagram, there's a lot of online and offline selling that happens and one of the reasons why they're popular in Kenya is because small-scale, middle-scale merchants use it as a sales tool," Safaricom Director of Enterprise Business Rita Okuthe said in an interview with Bloomberg.
"What we are going to be doing is formalising that. At least five in every 10 Kenyans have bought something they first saw online."
A joint report by the Communications Authority of Kenya and the Kenya National Bureau of Statistics found that more firms, about 27 per cent, sold their products online.
This was particularly the case with medium and large firms engaged in information and communication activities or accommodation and food service activities.
The report also found that, for most enterprises, 32.1 per cent, the main deterrent to online selling and buying was the fact that for enterprises, their products were not suited for sale via the internet.
Most of the firms found that there was not sufficient level of customer demand for purchasing via the internet.