Shikuku wanted tax money used in educating poor children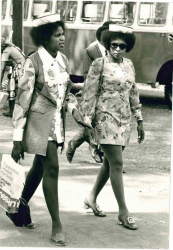 The former Britain Prime Minister Margaret Thatcher once said that every family should have the right to spend their money after tax as they wish and not as the Government dictates.
But in 1970, veteran politician, the then Butere MP Martin Shikuku, told the Third Parliament that miniskirts and alcohol had to be taxed heavily to save Kenya from collapsing - just like the Roman Empire.
When former President Mwai Kibaki, then the Minister for Economic Planning, presented the Finance Bill in Parliament, Shikukuproposed that women be taxed between Sh5 and Sh10 for wearing miniskirts to boost the budget for funding education.
"I think the time has come when any woman wearing a miniskirt should be told to pay an extra Sh5 in tax. If we do this, we will be able to get some money," Mr Shikuku told the House.
Expatriate teachers, he argued, were importing their "filth" into the country that was still quarreling over roads, housing and education yet those teachers came from countries that were already 'making trips to the moon.'
He argued that there were many children in rural areas who were bright but from poor backgrounds and needed government intervention to get education.
He said that tax increases should also be lumped on manufacturers and sellers of such outfits.
"We want to expand educational faculties for our children. We can raise money by making women who want to show us their thighs pay something for the education of our children," said Shikuku.
But Arthur Aggrey Ochwada, then the assistant minister for Natural Resources teased Shikuku that he should also pay something in return for seeing the women.
However, the Butere legislature was adamant stating that even if it meant taxing the devil, the country needed to educate its future generation.
Shikuku, then the assistant minister in Vice President's office and Ministry of Home Affairs also asked Kibaki to not only tax tobacco and alcohol but also increase taxes on wigs, which were gaining popularity.
"We do not need wigs in this country and I don't know why the minister has not increased prices on wigs. I do not know whether he received a women's delegation he held the other day, appealing to him not to increase the prices," said Mr Shikuku.
According to Shikuku, wigs were a preserve of "big guys like ministers' wives" and did not add value to the poor.
He said that it was unfortunate the country was squandering its foreign exchange on importing wigs "to disfigure our women."
He said cosmetics too should be taxed more because only European women were using them.
"Our women do not need these things. This is not necessary, we have a lot of water here and we can take a bath. That is enough if you use soap," argued Shikuku.
However, another MP, Ms Onyango stood on a point of order, saying that even men had started using wigs and cosmetics and should also be taxed even as Shikuku said he was yet to come across such men.
Fired back
But Kibaki did not take lightly the allegation that he had met women delegation to spare them from taxes on wigs.
He told the House that he was free to welcome comments from the public on the tax plan.
"I did not say I go by the opinion of the people. I said I listen to the people. In terms of English, these two words are very different," he responded even as Shikuku fired back.
"I am not an Englishman and I do not wish to be. It is just unfortunate that the standing orders provide that we must speak English. The best language I have ever spoken is Kiswahili and if Kiluhya can be accepted here, it will even be better," Shikuku responded, making Kibaki to whistle loudly in bemusement.
In a spirited effort to preserve African culture that was getting eroded by the European influence, the Butere MP told the August House that it was also necessary to increase the prices of stockings and eyeshadows.
"We either appreciate that we are Africans or not. Now we are in between Africans and Europeans. You will even find these women applying on their eyelashes some white or blue colour," said Shikuku.
"I think the taxes on these eyeshadows should be between 250 per cent or even 300 per cent. That on wigs should also be 250 per cent. We want to give everybody freedom as he (Kibaki) says but let us tax them and get more money," insisted Mr Shikuku.
European influence
A member shouted "You are right!" as the controversial legislature who once remarked that Kanu was dead continued to highlight tax measures to save the nation from European influence.
Shikuku also turned his guns on alcoholism saying that any drunk nation could collapse like the Roman Empire.
He advised Kibaki to increase taxes on alcohol so that those who drink can finish their money "as well as finish themselves but help government in putting up more schools and provision of free education."
"The price of spirits should be increased. You cannot die just because you don't take spirits. You cannot die merely because you do not wear a mini, cosmetics and wigs. The Ministry should increase prices up to even 250 per cent," he said.