Nairobi residents abandon cars to beat traffic jams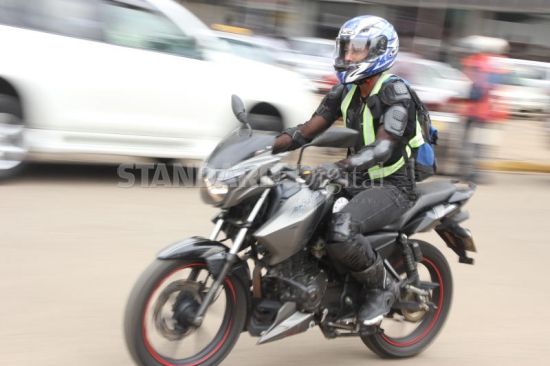 Nairobi City's roads are the world's fourth-most congested, according to International Business Machines Commuter Pain survey in 2011.
The government estimates that traffic jams cost more than Sh59 million a day in lost productivity in the city, or Sh1.8 billion per month. Every month, the city needs about 10.5km of additional car parking area; a distance that approximately spans from Nairobi CBD to Kangemi.
The Kenya Revenue Authority registers 8,000 cars monthly, with 7,000, according to Governor Evans Kidero, ending up in Nairobi.
The width of an average saloon car is 1.5 metres. So, parked side by side, and without factoring in room for manoeuvre, the new cars would demand 10,500 metres of space.
Take the same number of vehicles in the already traffic-packed roads every month, and you have chaos. A ripe recipe for wasted time in traffic, lost income and road rage. Consequently, some people have ditched the four wheel machine for the two-wheeled one.
And we are not talking about the boda bodas. Though increasingly popular for their flexibility and their gang-ho knack to cut through traffic, most people avoid the motorcycle taxis. Now there is a growing trend where Kenyans are buying motorcycles which they ride to and from work.
We talk to a few:
Michelle Morgan, news anchor
Ms Morgan revs along Nairobi's Muindi Bingu Street in her Puzey 200cc black and white motorcycle. She stops at the I&M Bank Building, removes the helmet and lets her long hair fall to the shoulders. Tight jeans and black boots complete the look, and people cannot help but stare.
"I am used to the stares," she tells us, "It means sometimes motorists give me room on the congested roads to pass as they are curious to see a girl on a bike."
Morgan has access to a good car, but she would rather ride. "When running errands in town, I would rather use a boda boda. In fact I have a boda boda guy."
She has been riding the bike for three years now. She lives in Kilimani and it takes her about five minutes to get to work in town.
"On an ordinary day (yes, traffic is the norm) you would take ages," she says. And yes, she also saves money. Her Nissan Xtrail runs for a week with a Sh5,000 full tank.
"But the bike consumes about Sh800 of fuel weekly."
And apart from beating the traffic, Morgan says she is an adrenaline junkie, and the bike gives her that excitement. Also, her family owns a security firm, so she has grown up watching the guards ride, though her mother would not let her learn how to ride one. Like most bikers, she belongs to rider's associations. There are about 12 such associations, themed around the make of the bike, or affiliation like the Women Bikers.

Kelvin Maina, Computer services
Maina refers to himself as a freelance computer guy. He sells and repairs computers in his clients' offices, saving them the hustle of carrying them to repair shops.
Despite his bike having that sporty revving sound, Maina receives calls while at high speed.
"My phone is my office. I use voice commands," says Maina of K-Ten Investments. He straps his phone to his ear, held tight and safe by the helmet. When it vibrates, he commands it (by talking) to answer. That way, he never misses an order.
And the bike has revolutionised the young entrepreneur's hustle.
"One day I lost a client despite leaving home in Kasarani at 6am. I was in traffic for four hours. Then, I used to handle two clients daily. Now I can serve up to ten."

Eunice Karanja, driver,
Standard Group
Better known in the biking world as Warush, Eunice's story with the motorbike is interesting. She makes her bread and butter as a driver at The Standard Group, but for personal use, a bike comes in handy. Her Honda Karizma is always parked besides her colleague's vehicles, and they are always fascinated by the brave figure she cuts while riding.
And you know what; Eunice owns a manual transmission Peugeot 504.
"I used to drive to work; it was hectic," she says, adding that she could not help seeing boda bodas whittle by while she was stuck in her car or in the matatu. "I started fantasizing about a motorcycle, and at some point, I used a bicycle."
In 2012, she bought a motorcycle, and she has never looked back.

Gitau Mwathi, Student
Mwathi, 19, rides a TVS Apache RTR160. Dressed all in black, with a backpack full of books, he looks the part. He lives in Karen, and takes German classes at the Goethe Institut in the city centre. His class starts at 9am, and before the bike, it took him up to two hours on the road.
"Now it takes about 40 minutes.
The only thing I have to do is ensure I am very keen on the road to avoid crazy matatu drivers. I have noticed most riders do not use side mirrors and indicators. It is important." Mwathi says the boda bodas are matatu's in two wheels, carefree and reckless as they come. "Watch out for them."

Samuel Ramtu, Radio journalist
Mr Ramtu bought his bike when he lived in Umoja. Getting to work in Hurlingham took him two hours. He cut that to 45 minutes. He recently moved to Uthiru, a distance of 13.5km from his office. "It takes me less than 15 minutes."
He rides daily, and like Morgan is an adrenaline junky; "I stumbled into biking by accident when the company I used to work for bought a motorbike and needed someone to run some errands, I volunteered.
Then I changed jobs and I just had to buy a bike. See, once it gets into you, it's really hard stopping, we can say biking is a drug, very addictive."