Scrap metal dealers protest new regulations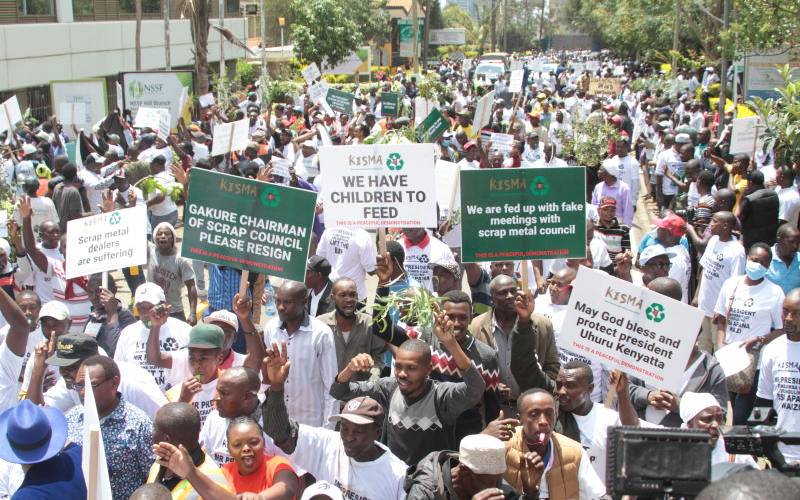 Scrap metal dealers are protesting the new requirements imposed on them by the government.
Despite the government's move that saw the ban imposed on scrap metal early this year lifted, the doors of scrap metal dealers remain closed, especially Jua kali dealers who decry the hefty fee imposed on them.
According to the moratorium on trade in scrap metal released by the Ministry of Industrialisation and Trade, the Jua kali traders and collectors of scrap metals were slapped with a Sh50,000 fee on metal collected summing to 3,000 kilogrammes (Kgs).
"It is not that I do not want to pay for the licences, what we want is to have it reduced. I am a collector, I pick scraps, where do I get the Sh50,000?" said one trader, who gave his name as John.
"I go to the Industrial Area to pick, not that I know where exactly to find the scraps. I go for up to three days or a week without getting scraps, I work periodically," he said.
Another trader who only gave one name, a Mr Mwaura says he doesn't have a car thus transporting the scraps he collects is a challenge.
"I hire cars to carry my goods to the person I am selling to, I do not have an account as an agent. The new regulations require that I have a specific transporter, that condition is unreasonable, I will not be able to do business even if I want to," Mwaura said.
A trader, Kennedy Musembi, also reckoned the license imposed on them. "The fee they want us to pay is too much. It is not something that can be realised even in a whole year.
The most we can afford to pay is Sh10,000. We are not running away from paying the fees, the fee is too high," Musembi said.
The new requirement also states that only businesses with licenses will be allowed to resume operations come 1st May. This was not met lightly by traders.
"Our stock has been resting in our stores, it will only make sense if our stores are opened first, otherwise we won't be able to pay for the licenses. What will happen to our stock if they don't open and we are not able to pay?" Mwaura.
Sarafina Kadambi, a Jua Kali scrap trader says the new regulations will hurt dealers more. "I collect my scraps from garages, in a good day, I collect up to 100kgs of scrap which then gives me about Sh400 to Sh500, out of which, I pay for transportation on a cart because I cannot afford a pickup or lorry," Kadambi stated of her working situation.
She questioned the requirement by the state that any dealer collecting up to 3000kg to pay Sh50,000.
Ms Kadambi says that with the new requirement, it will be difficult to continue operating. "I make profits of about Sh1,000, and after a long time. Saving this to make the fee required is very difficult considering I have other needs," said Kadambi. Other requirements by the Trade and Industrialisation Ministry include having licensed dealers registered as members of a business organisation.
While the time of operation was included as 6:30am to 6:30pm, traders have reservations.
"It is known, that this trade has never taken place at night. Besides, we open work at 8 am and close business by 6pm," Musembi. "Collecting scrap metal for small dealers earns them a profit of up to Sh200 a day. Telling this person to pay Sh50,000 is like asking them to abandon this business," Musembi said, echoing the plight of Jua kali collectors.
Musembi's two stores in Industrial Area remain closed since January 20, this year when the president banned the sale of scrap metal due to increased vandalism of critical infrastructure including transformers, transmission lines, rail and road infrastructure. Following the ban, the State mooted new regulations to guide the trade in scrap metal.
The regulations apply to steel fabricators, stockists of second-hand metal parts, motor vehicle salvage operators, electrical rewinders and local welding machine fabricators.
According to Boniface Kimani, a mechanic, things still look bad for them. "We sell to the Jua Kali collectors who get very little here, and the parts we sell to them are hardly 100kgs. Right now we have a mountain of parts here which we can't sell because of the penalty," Kimani.
According to Trade and industrialisation Cabinet Secretary Betty Maina, any person who undertakes scrap metal trade without a licence commits an offence and is liable on the account. "For a first offence, a fine not exceeding Sh10 million or a jail term not exceeding three years or both," CS Betty Maina stated.
Repeat offenders are liable to a fine not exceeding Sh20 million or a jail term of up to five years or both.