We live by bank credit but things can only look good – tea farmers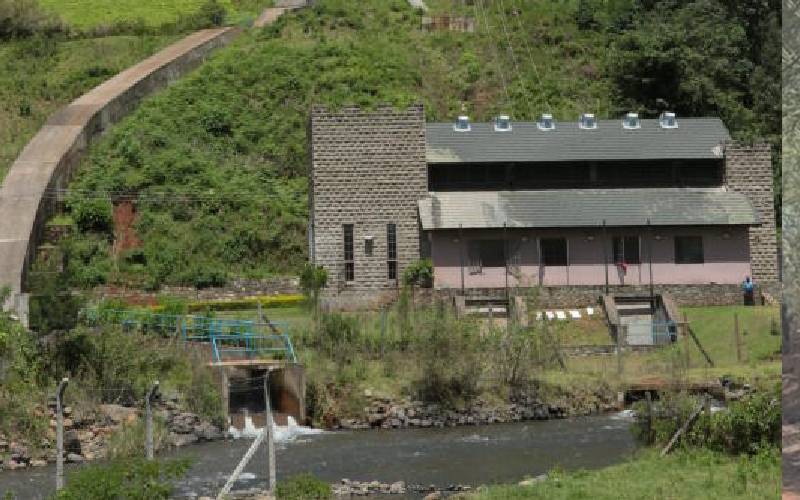 Tea farmers at smallholder tea factories have given an insight in to why the clamour for reforms and change of leadership is exciting them.
According to the tea farmers, things can only look up for the players in the subsector after the recent changes proposed by the Tea Act, 2020 and government declaration of intent for reforms.
Paul Mwangi "Wa Gitahi" looks more youthful than his age. In his 60s, he comfortably harvests tea in his farm the whole day and delivers to the local leaf collection centre where he chairs the management committee.
The Gathuthi Tea Factory farmer was beaming with hope when we paid him a visit at his hilly farm in Karega village in Mahiga ward, in Nyeri county.
Other than small portions of his farm occupied by Napier grass, seasonal food crops and Eucalyptus, Wa Gitahi's estimated four acres is entirely under the tea crop.
"The climatic condition and the soils of this area predisposes us to only practice tea farming as a profitable venture," said Wa Gitahi.
A keen listener and deep thinker, he seizes you up as you frame a question and quickly conjures an intelligent answer.
"Although we get regular payments, tea farmers have had a raw deal for decades. I just hope one day we shall be able to do tea farming as a profitable business," said Wa Gitahi.
With 5,000 tea plants, his yearly harvest is just over 7,000 kilogrammes meaning that the monthly harvest is just under 600 kilogrammes. From that until last January, he used to earn just under Sh10,00 before any deductions.
As it were, most of his harvest is from hired labour at Sh11 per kilo for plucking meaning 500 kilogrammes take up Sh5,500. Other deductions for cess and pre contributions for the annual fertilizer purchase scheme (fertilizer suspense) set him back another Sh2,000. It means that on a normal month his earnings from the sizeable small holder farm averages less than Sh3,000 if he was not servicing any bank loan.
"Clearly, you cannot live on this and though it helps us in a way, it means we are perennially on bank loans to finance farm labour, living expenses and school fees among others," said the farmer.
At Wa Gitahi's compound, there is a large consignment of timber under a corrugated iron sheet and some building materials that appear to have weathered some seasons.
This gives on the impression that he had planned to renew the semi-permanent family home at some point before it became a cropper.
But he says the perennial borrowing cycle that tea farming has relegated growers into meant that disposable income is nonexistent for the bulk of 620,000 smallholders in the country.
"I can't remember a single year in the last 20 years that I was not servicing a loan," said Wa Gitahi. "I am still servicing one as we talk because children have to be educated and life has to continue."
loan cycle
Many tea farmers we talked to confessed hoping from loan to loan. They will liquidate the year's loan once they are paid their second payment (popularly known as bonus) only to realise they have nothing for the next year.
Financial institutions urge them to top up the loan or just clear the existing one and take a new one.
"My hope is that we shall not consign another generation to this borrowing curse. It is the curse of the smallholder tea sub sector," said Wa Gitahi excited over the promise given by the reforms under the Tea Act, 2020 which requires that farmers be paid 50 percent of their proceeds within the month and the rest within the year.
One of the reasons that insiders at the KTDA have always cited to oppose substantial regular monthly payments for farmers is that the cost of harvesting labour would substantially rise.
But Wa Gitahi offered the most reasoned response to this. He said harvesting labour for most farmers is usually offered by their relatives and neighbours.
"If they get a rise, what would be the harm? They will most likely radiate the warmth to us which is better than losing the billions to some tycoons sitting somewhere in the city or the beach enjoying your sweat," said Wa Gitahi.
We crossed several ridges and the mighty Gura river at the Sh2 billion farmer owned Gura mini hydro plant to Kiamutiga village in Wamagana ward, Tetu sub county. This is a catchment zone of Gathuthi Tea Factory which produces most of the premium teas in Nyeri county.
Near the PCEA church, we met 65-year old John Mbiriri who has 5,000 bushes on three acres. Mbiriri's farm has some tea clones planted in the 1950s by his late father who was one of the earliest growers in Nyeri county.
Mbiriri's farm is an organized affair with wide pathways and shade trees. He is also into some more activities including passion and avocado fruit and fish farming.
"We do the extras because you cannot rely comfortably on tea farming. We have to diversify because of the instability that has gripped our main income earner," said Mbiriri.
Mbiriri once had a role as a chairman of the credit committee of the local tea farmers sacco.
"No farmer can survive in this industry without credit. I know it because I am one and have seen daily paper work of desperate households seeking to raise something to keep going," he said with a shake of his head.
Like every tea farmer you talk to, he admitted that tea is one of the smallholder cash crops that guarantee a regular pay and the only profitable crop you can grow in the upper climatic zones in this region.
He said even with the regular payments, tea farmers have struggled for years to retain a semblance of sanity in managing their personal finances because the reality is they have been struggling to balance the equations.
Mbiriri pays Sh12 per kilo for plucking labour almost wiping out his monthly payments when payments were at Sh16 per kilo. KTDA raised those rates to Sh21 in January but ruled out paying mini bonus by the end of this month.
This farmer confessed that his tea account is also perennially servicing loans and sometimes he would sometimes be simultaneously servicing a crop advance payable in three months and a yearly loan.
"With the backing of the government, we are content that the reforms will succeed this time around. If they do, farmers will forever be grateful to the president for his blessings," said Mbiriri.
So which formula do the new directors elected by farmers special general elections in all the factories in Mt Kenya intend to use to achieve farmers dreams for higher payments?
Paul Gitonga Wanjau, who was elected the new chairman of the Gathuthi Tea Factory offers a simple answer.
"I have been a director for the factory in the previous five years. I know it through and through. I know the avenues under which finances are lost," said Wanjau.
He promises that new teams are committed to removing avenues for conflict of interest and kickbacks in tenders and contracts that make projects and processes expensive shrinking farmers earnings.
A total of 16 contestants are in the race for the postponed Chinga Tea Factory elections scheduled for Saturday April 24, in the six electoral zones demonstrating the usually protracted contest for the coveted positions.
"A lot of unscrupulous contestants believe there is free money to be picked at such companies and will freely campaign as if they were after a political seat. The reality is that they will ultimately seek to recoup those loses once elected," said Wanjau adding that this may be the genesis of the problems in the sector.
Utility
Tea reforms timeline
2000: Government exits the smallholder tea subsector putting the Kenya Tea Development Authority (KTDA) under farmers hands.
2014: Government collapses the Tea Board of Kenya and other specialised regulators into the Agriculture and Food Authority (Afa) directorates in an austerity measure.
2014: The National Tea Industry task force established by Agriculture CS Willy Bett to analyse information presented by the various stakeholders in the industry.
2016: Ministry of Agriculture holds a stake holders meeting including the Council of Governors and private sector on the implementation of the task force report on tea.
2018: Kericho Senator Aaron Cheruyoit proposes the Tea Bill, 2018 to reintroduce the Tea Board of Kenya as specialised sector regulator abolished in 2014.
2019: Agriculture CS Peter Munya publishes a radical Crops (Tea Industry) Regulations , 2019.
Jan 2020. President Uhuru Kenyatta directs the immediate rolling out of reforms in the tea industry geared towards cutting waste and increasing earnings for farmers
2020: Regulations passed by National Assembly but rejected at Senate.
2020: Ministry of Agriculture annexes most of the regulations to Cheruyoit's pending bill and both Houses of parliament approve them as part of Tea Act, 2020.
2021: President Uhuru Kenyatta in an executive order directs fastracking of tea sector reforms and orders forensic audit at KTDA and tea auction.
2021: Farmers start holding special general meetings at 69 smallholder tea factories
2000: Government exits the smallholder tea subsector putting the Kenya Tea Development Authority (KTDA) under farmers hands.
2014: Government collapses the Tea Board of Kenya and other specialised regulators into the Agriculture and Food Authority (Afa) directorates in an austerity measure.
2014: The National Tea Industry task force established by Agriculture CS Willy Bett to analyse information presented by the various stakeholders in the industry.
2016: Ministry of Agriculture holds a stake holders meeting including the Council of Governors and private sector on the implementation of the task force report on tea.
2018: Kericho Senator Aaron Cheruyoit proposes the Tea Bill, 2018 to reintroduce the Tea Board of Kenya as specialised sector regulator abolished in 2014.
2019: Agriculture CS Peter Munya publishes a radical Crops (Tea Industry) Regulations , 2019.
Jan 2020. President Uhuru Kenyatta directs the immediate rolling out of reforms in the tea industry geared towards cutting waste and increasing earnings for farmers
2020: Regulations passed by National Assembly but rejected at Senate.
2020: Ministry of Agriculture annexes most of the regulations to Cheruyoit's pending bill and both Houses of parliament approve them as part of Tea Act, 2020.
2021: President Uhuru Kenyatta in an executive order directs fastracking of tea sector reforms and orders forensic audit at KTDA and tea auction.
2021: Farmers start holding special general meetings at 69 smallholder tea factories