Qatar Airways adds Amsterdam to its European destinations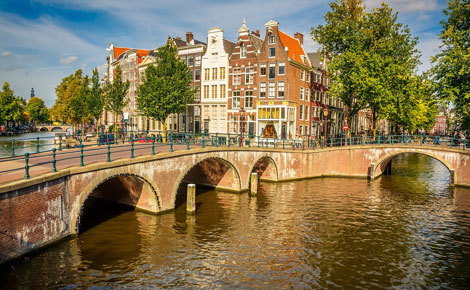 View of a section of the canals of Amsterdam that are a major tourist attraction in The Netherlands. (Photo:Courtesy/QR)
Doha, Qatar: Qatar Airways has revealed its first new destination in 2015, to the capital city of the Netherlands, Amsterdam, starting from June 16.
Qatar Airways Group Chief Executive, His Excellency Mr. Akbar Al Baker said: "Amsterdam has long been on our list of destinations to introduce to our network, and we are delighted to now be adding this dynamic European city to our route map.
"Qatar Airways looks forward to bringing our five-star service to The Netherlands, and providing travellers with an extensive list of destinations across the Middle East, Africa and the Far East that are easily accessible with a minimal connection time in Doha."
The Doha – Amsterdam route will operate with a Boeing 787 Dreamliner, offering 254 seats configured in two classes, with 22 fully-flat-bed seats in Business Class and 232 in Economy Class.
Flying non-stop, the total journey time between Doha and Amsterdam is six hours and 35 minutes.
The daily flights will be departing from Doha in the morning, arriving into Amsterdam in early afternoon, with return flights to Doha departing in the late afternoon. The schedule provides the convenience and flexibility for passengers to travel to the city for short leisure breaks or business meetings.
A highly popular tourist destination, the Netherlands counts 10 sites listed on the UNESCO World Heritage List. The city of Amsterdam contains two of them, the 17th-century canals of Amsterdam and the 19-20th century Defence Line of Amsterdam.
A port city and ever-growing destination for business, Amsterdam acts as a base for seven of the world's 500 largest companies, including Philips and ING.
The State of Qatar, the airline's hub and home, recently opened the Hamad International Airport (HIA), an architechtural marvel which offers one of the world's best Business Class lounges – the Al Mourjan lounge; over 40,000 square metres of retail space and restaurants – which includes a selection of more than 70 retail and 30 food and beverage outlets.
HIA also has a fully accessible spa for all passengers with a minimal entrance fee, that includes access to a swimming pool, squash courts, sauna and steam rooms and esthetic services.
With the addition of the city of Amsterdam, the total number of European destinations offered by the five-star airline reaches 34 – which is approximately 25% of the airline's total route map.
Qatar Airways now has a modern fleet of 146 aircraft to 146 key business and leisure destinations across Europe, the Middle East, Africa, Asia Pacific, North America and South America.