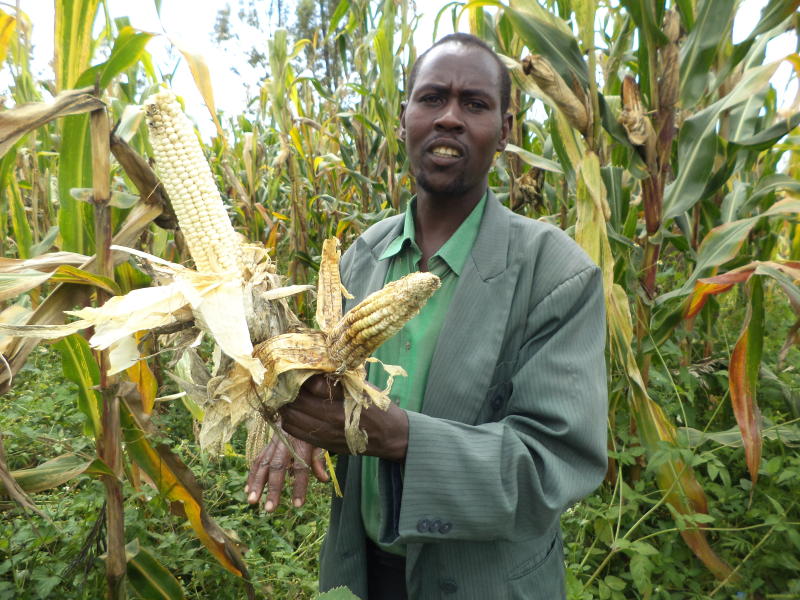 Business News
Disease that started in Narok South has since spread to Trans Mara, Kilgoris, Bomet, Nyamira, Kisii, Nandi and Nakuru counties.
In Emarti village, Kilgoris Sub-county in Narok County, women line up to buy maize from a lorry that has just delivered dry grain for sale. Traders in the lorry announce that they are selling a two-kilogramme tin of the grain at Sh140 or Sh6,300 a bag. Unmoved by the price, the women pick kilos of it. They have no option, they are used to buying it all year round. Among the group of women and girls is Lucy Lekishon. Seven years ago, her husband was a commercial maize farmer who would sell hundreds of kilos of maize from their 10-acre farm.
Bumper harvest
SEE ALSO: It's risky to transfer role of food trust to cereals board, say MPs
"We used to transport over 200 bags of maize to the National Cereals and Produce Board depot in Mulot after a bumper harvest, it was laughter around this time of the year as we made money from farming," said Ms Lekishon. Things were however to change for the worse. For four years, they planted maize on their field and it kept failing. "The last three years have seen us not planting maize, we have been reduced to buying food at the centre," she said. Maize lethal necrosis (MLN) disease has ravaged maize fields in Narok South for the past seven years. The viral disease that started in Narok South has since spread to Trans Mara, Kilgoris in Narok County, Bomet, Nyamira, Kisii, Nandi and Nakuru counties. Joseph Koech in Mulot was among the first farmers affected by the disease outbreak. Not to be deterred, he cleared his farm and replanted several times before giving up, just like Lekishon a few years later.
SEE ALSO: Wekesa, cereals board clash on merger plan
"We have learnt to brave the hunger that comes with not being able to plant our own food. We do not know which farm was first infected, but every farmer has been affected by the disease. The maize leaves turn yellow and the whole plant rots away within weeks. It spreads by the day," said Mr Koech. According to CABI, a not-for-profit scientific research firm, the MLN menace in Kenya was introduced by co-infection of maize by maize chlorotic mottle virus and sugarcane mosaic virus. A recent survey by Global Maize Programme at the Maize and Wheat Improvement Centre, and Consultative Group for International Agriculture Research programme, maize, said the spread of MNLD countrywide was at 28.5 per cent. The spread of the disease has been immense, and has triggered a shortage of food in the country, with farmers losing between 40 and 100 per cent of their crops. In terms of national food security, the assault on maize production has heralded a disaster. According to the Maize Production Early Harvesting report, both Bomet and Narok used to produce over 10 million kilos of maize a season, with close to a similar amount in the subsequent one.