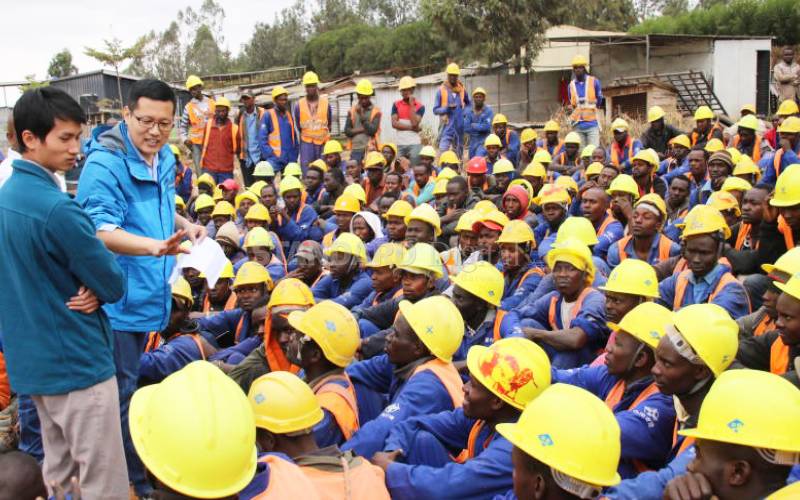 Standard Gauge Railway workers held a protest following the death of a colleague who fell from a 100-feet high bridge. The employee, who was working at section 7 of the line at Ongata Rongai, was identified as 25-year-old Victor Baraza. He fell while trying to avoid an oncoming wagon. He was rushed to hospital where he succumbed to his injuries. The workers accused their employer, China Communications Construction Company, of not implementing enough safety measures that could prevent such an accident. The workers demanded a risk allowance due to the nature of their work. They said they work under tough conditions, including harassment. They also said they work more than eight hours in order to beat the October deadline.
SEE ALSO: China not funding SGR good for Kenya
"We lack many things here in section 7 including safety gear such as belts, and boots and first aid kits," said Brian Onyango, a supervisor. "Life is more important than work. There will be no work until our demands are met," said Onyango. The Section 7 team is mainly involved in track laying and beam erections. The standard monthly payment for most workers is Sh25,000, but can be higher depending on individual skillset. Onyango said the language barrier made it hard to communicate with their employers. Company Spokesman Steven Zhao said they had compensated the family and dismissed claims they tried to cover up the incident.
SEE ALSO: Omtatah: Judiciary is not to blame
He said the company was working to address the issues that had been consistently raised by the workers. "For such a big project we can't hide anything… we release all the information including the progress. We do compensation, we try to improve our safety regulations and ensure that this kind of incident does not happen again," he said. Mr Zhao said that new regulations were yet to be set on the risk allowance. "After this kind of case we have internal discussions if we should provide risk allowance for the workers," he said. Section 7 has 560 workers and Zhao said about 300 had been involved in the go-slow. Zhao added that was the first major accident at the section.
SEE ALSO: Faces behind the flawed SGR procurement