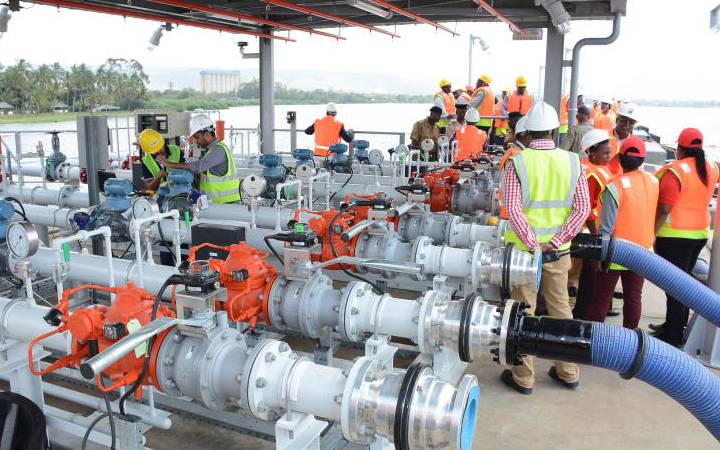 Operations at the Sh1.9 billion Kisumu oil jetty are yet to begin 18 months after the facility was completed. Delays by Uganda to complete its own jetty to receive, provide storage and ease the transportation of oil has seen the facility remain idle. Uganda is expected to complete its facility this month, but a cloud of doubt still hangs over the exact date when Kenya will start earning from oil exports via Lake Victoria. Shipping vessels with the capacity to ferry the oil are also lacking.
SEE ALSO: Uhuru's tough balancing act as Jubilee, new allies demand key House seats
A recent flurry of activities at the Kisumu Port spearheaded by President Uhuru Kenyatta are the only indications that the jetty might be soon commissioned as part of the revival of the once booming and lucrative trade between Kisumu, Jinja in Uganda and Mwanza in Tanzania. A Sh3 billion facelift has been given to the port whose launch is expected in August. President Kenyatta is expected to be joined by his Eastern African peers including Yoweri Museveni (Uganda), John Magufuli (Tanzania), Paul Kagame (Rwanda) and Felix Tshisekedi (DRC). Giving a tour of the jetty recently, Kenya Pipeline Company (KPC) senior technician Paul Mibei buttressed the readiness of the facility. He, however, said that a live test was yet to be run due to the unavailability of a vessel to conduct it with. "This facility is an exit point, so there should be a batch to receive the product. Those batches are owned by independent entities, so oil marketing companies will have to put in place mechanisms for bringing batches to lift product from here," said Mibei.
SEE ALSO: To open or not is no issue, health and economy are
"There's normally what we call dry tests which we did but haven't done live ones. For a live test, a batch has to be on shore for the product to exit but the system that is yet to be done," said Mibei. The completion of the dock at the Kisumu Port is also expected to boost the capacity for holding of oil vessels including a 750,000-litre boat that used to ply the lake's waters before the collapse of maritime trade. The 12-crew MT Harambee, which was refurbished at the Kisumu Maritime School, was back in the water recently in readiness for the commissioning of the jetty. The 300-tonne vessel owned by Tricon International will now make at least six trips to Uganda's Jinja and Entebbe, ferrying 4.5 million litres of petroleum products - the equivalent of 132 trucks once Ugandan line is ready. This could also help reduce road carnage and damage to the infrastructure.
SEE ALSO: Kenya, UK to start post Brexit trade negotiations
The vessel was built in 2002 but was withdrawn due to lack of business. He said the Kisumu oil jetty would allow for the faster and safer transportation of oil in bulk and further unlock Kenya's access to the regional market. Mr Mibei noted that it would ease pressure on the roads, removing 300 trucks. "Once all this are in place, then I believe KPC is ready to release the product for delivery. Everything is in place including the pipe layout," he said. "Uganda's completion of its jetty will have a positive impact since they are the recipients … If they were ready, we should be running," he said. Mibei was, however, hesitant to discuss Uganda's readiness but hoped the landlocked country was getting set for business. "For the point of destination, I can't talk about it. It is between the Kenyan government and the receiving side. I believe the other sides are doing something because if I load, there it must have a place to be taken," said Mibei.
SEE ALSO: MP urges Uhuru to drop 'lazy ministers' in looming Cabinet reshuffle
Mr Mibei also denied reports that the Kisumu jetty had failed to meet standards with earlier media reports saying that the DCI and an expert report had found it deficient. "The project is usable just like others that have been laid before," he said. The jetty is able to load vessels with all the four products transported by KPC that include diesel, kerosene, super petrol, and jet oil.One ship container can be able to receive 1980 cubic metres of the four products per hour. The oil jetty is part of the KPC Kisumu depot's facility that has a throughput of six million litres of oil per day. Over 60 to 70 per cent of this is for export to countries including Uganda, Rwanda, and DRC while 30-40 per cent is for domestic use in the western region including Kisumu, Busia, and Kakamega.
SEE ALSO: Brace for tough times, CS tells betting firms
-Additional reporting by Kepher Otieno